Blood in stool/worms
---
Hi! I feel like all I ever talk about here is cat poop
Sorry this is so long but I want to try and get all the info in:
I have had two kittens for about 2 months now (they just turned 4 months old). I had them for just over a month when Kelly first had blood in her stool (wet and bright red) and the vet treated her for Coccidia (stool sample was negative but he said false negative isn't uncommon) and put her on an antibiotic for two weeks. A week after she finished, Will began to have the same poop problem. I took him to the vet and he was diagnosed with roundworm. The vet had me treat both cats for 5 days with Panacur C. They finished the Panacur a week ago. Tonight, I noticed Will has bloody poop again.
A little more background: the cats are my only pets and 100% indoor. They were originally strays and were trapped by the animal shelter at 4 weeks old. I don't know how long they stayed at the shelter but I do know they lived with a foster for at least a week before I got them at 7.5 weeks old (I was fostering before I decided to adopt them; their foster was leaving for college, which is why they moved on to foster home #2). They were dewormed at least once by the shelter/while they were still fosters.
I have a bunch of questions...
How many times do cats typically need to be dewormed?
Is it normal for 4 month old kittens to still have worms?
Is it possible for them to have picked up worms while living with me, since they were both fine for the first month I had them (or can worms take a while to show up)?
Has anyone had experience with Panacur C (is there another dewormer that's more effective)?
I have been weaning them off Fancy Feast (what shelter was feeding them and with all the poop problems, I didn't want to add any more factors to the equation so I kept them on the same food) and am now feeding them Wellness, EVO, and Merrick. Is this anything that changing wet food be related to?
It's so frustrating to have a cat with a bloody bottom every few weeks. The vet did blood work and said they are perfectly healthy otherwise; they are very playful at home and don't seem sick. I'll be calling the vet tomorrow, but I really don't want to be bringing them in for their 4th visit in less than a month. Will doesn't mind too much, but Kelly gets extremely stressed.
Thank you very much for reading and if you made it this far, Will is sitting next to me on the couch and the bouncing cat on the side of the screen is very intriguing for him! His head moves back and forth along with the cat and he keeps trying to paw at it
It is very common and they will be cured
So Fenbendazole is the active ingredient in Panacur. It does work against roundworms, some other kinds of worms, and also Giardia. I bet it's because generally speaking, roundworms alone shouldn't cause blood in the stool. However Giardia and Coccidia may cause red blood in stool. Bacterial infections can cause blood too but probably going to show fever as well. Mechanical injury will produce blood in the stool if the cat strains while pooping & if there were existing anal fissures. Did the vet check the anal glands?
The key for treating roundworms is to break the cycle since the drugs only affect adult worms, you will probably need at least a second dewormer. There's an effective drug called Pyrantel pamoate which 1 oral dose. The dewormers are used 12-14 days apart to give time for the immature larvea to grow into adults and target them before they start laying eggs. For my kitty, we just did two dewormers and she was tested a month later and stool sample was negative. Just keep the litterbox clean and wash your hands after dealing with the litterbox.
---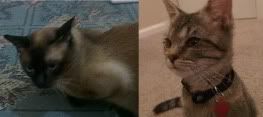 Besbes & Toka
Posting Rules

You may not post new threads

You may not post replies

You may not post attachments

You may not edit your posts

---

HTML code is Off

---