Angry Teenie Bopper Help
---
So my little one Benelli is one of the sweetest, friendliest cats I've every come across (she actually sticks her nose out when you say "kisses" so she can get a kiss) and since we've gotten her in March, she's been a constant source of entertainment. She is the only cat in our household, we don't have a dog (yet), but she does practice her hunting "skills" on a fish in our salt water tank. I use "skills" in quotes because she chirps at the fish and lunges at the tank quite frequently, smacking her face on the tank in the process.
A little background on Benelli. She was a rescue kitten, we got her at about 3 months old and we are her third, and final, set of parents. She was born a barn cat, a guy then adopted her for his fiancee who took one look at her and said that they couldn't afford her as she had a few ailments, so they dropped her off at the Humane Society. We went to the Humane Society and met her the day before she was schedule to be fixed, fell in love with her, and the rest is history. She has been spayed and she has been declawed in the front only. We do trim her back claws on a regular basis.
For the last few weeks, she's been having what I can only describe as temper tantrums. She will be completely fine one minute, playing, snuggling, having a grand old time, then the next minute, she turns into pure stinking evil. They happen about once a day to once every couple days.
She puts her ears off to the side (she doesn't put them back), starts doing those low, throaty m-raows, starts whipping the tip of her tail, and starts slow walking sideways in what I assume she believes is a threatening manor. If we walk at her, she'll attack our legs. If we try to tap her on the nose, she bites us. If we try to grab her, she latches on, ears go back, and she starts to kangaroo kick our hand.
The only way to break her "trance" is to throw a toy for her, but I'm worried it is teaching her positive reinforcement for bad behavior. I've tried the water bottle technique, however she enjoys it. She's definitely a water baby. There's no one thing that sets her off. I at first thought it was because we were giving her too much attention/overstimulating her because that's how it first started. However, lately, it can be triggered because I'm not giving her enough attention, if I'm doing something other than giving her attention, or when she senses we're about to leave.
We love her and we are in for the long haul and I can only assume this is another one of her phases, but is there something we can do to get her over this phase faster or to stop her behavior? So far, she has only done it to us, but I don't want her to do it to any of our friends or family as they come to visit.
Thanks in advance and sorry for rambling!!
Oh and this is my girl: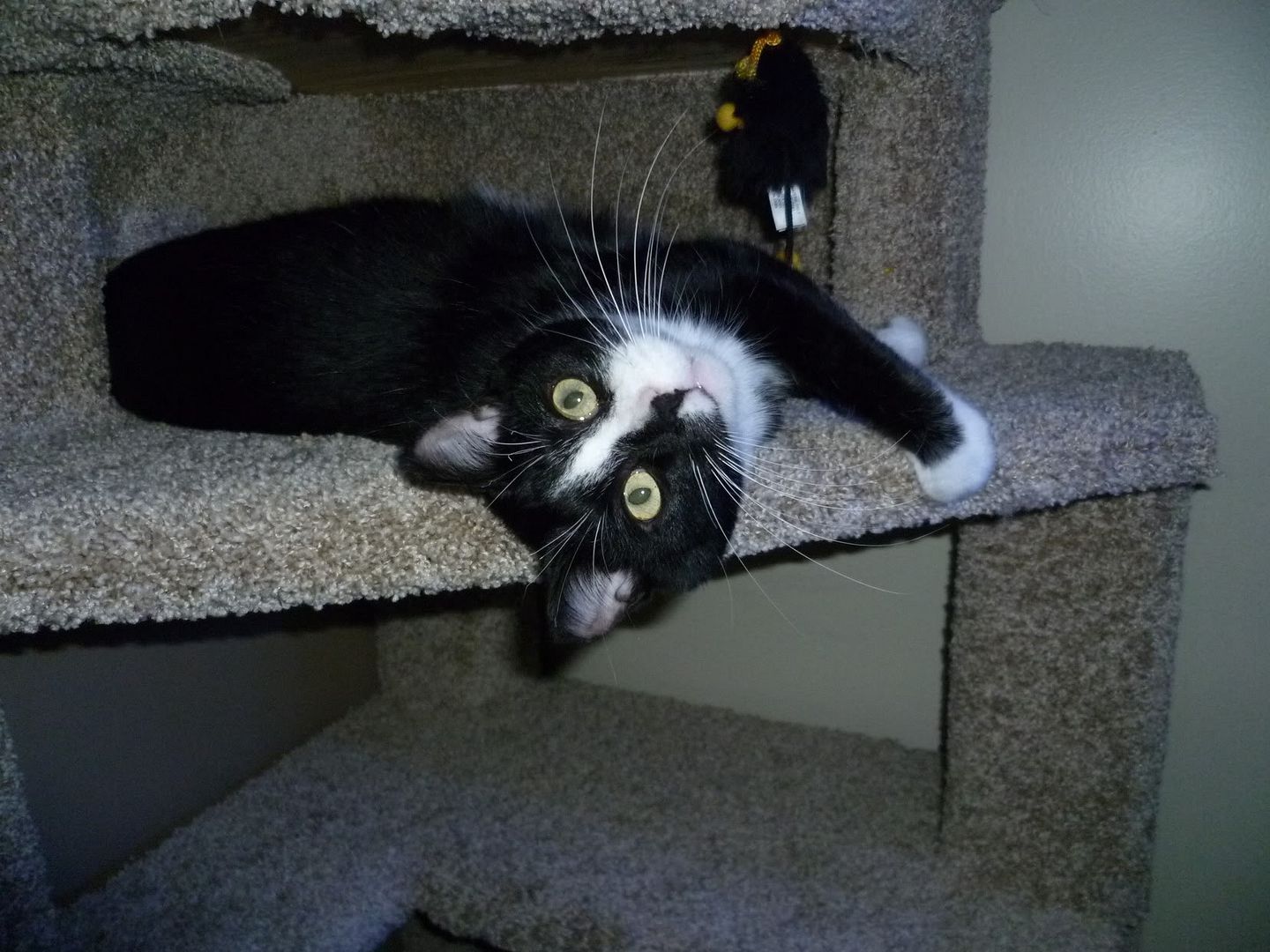 ---
Last edited by SpitFyRRe; 11-18-2011 at

03:37 PM

.
It's not a tantrum, it's a combination of things.
Mainly over-stimulation and excitement. That's why she's loosing the control she normally has, she isn't capable of controlling herself at that time. She is still just a baby.
However, that doesn't mean you need to put up with it! It's still not ok and she needs to learn not to do it. But be patient with her.
When my boys got too excited I started watching their signs when they were playing. It seems like it happens all at once, like flipping a switch, but if you watch closely there are earlier signs and you need to learn to watch for those.
For example, before Muffin goes all crazy he pauses in his play, his pupils get big, and his ears go off to the side. Then he bites too hard and bunny-kicks.
So, I would play with him and wait until I saw those signs, then I'd get up and ignore him for a minute until his ears and pupils went back to normal. They we would play again. At first I used a big stuffed animal, so I wasn't getting bitten and kicked. When he stopped and calmed down we would go back to playing and I would try to keep him under that threash-hold (sp?). Now I can tell when he's about to get too excited and I just walk off. He's a adult now (3 years) so rules are a bit stricter about biting and kicking.
You mentioned that if you walk away she'll attack you, right. Then simply pretend you're a tree or a rock. When I play with the boys I'm usually on the couch under a blanket. So if they get too rough I dump them off the couch, and cover anything tender with the blanket and ignore them until they are behaving again. Usually the dump off the couch does it, but not always. The trick is to not respond to ANYTHING they do until it's something you like. Like sitting down calmly and grooming. If you yell, or swat, or hit her nose she's getting attention for doing bad things. So the behavior will continue.
I would also suggest having playtimes with her when she's good. So she learns fun-time happend to good kitties, nothing fun at all happend to naughty kitties. Worked like a charm for both my boys. Now they have awesome manners!