Kitten
Join Date: Feb 2013
Location: Delaware, OH
Posts: 1
Crazy Cat Lady (in training!)
---
Hi there! I'm Elppy (or MJ, I will answer to either). I have two cats of my very own; Ziya (Didi) whose burffday is Saturday (she'll be 3!) and Sushi, who will be two in April.
I love cats, I love every kind of cat, I just want to hug all them, but I can't, can't hug every cat....
So anyway... I joined because I am looking for more information about cats. I've owned probably about 20 cats in the past seven years; three died (FeLV, eating string, roomate's dog), a bunch were fosters/rescues, two stayed with my ex-fiance, and a couple were rehomed because we didn't get along. I've been thinking about finding Sushi a new home because he's so needy and between my boyfriend and my job, I am not around to give him enough attention (or, according to him, food [he's 20 pounds]). I don't really want to give him away, since it would feel like a failure to me. So instead, I found this forum and am looking forward to meeting everyone and talking about cats; behaviour, silly stories, recipes... erm, not recipes, nooo, I never threaten to make chinese food out of my precious babies, not even when Didi gets on the counters and noms holes in my marshmallow bags, nope, not even then!!!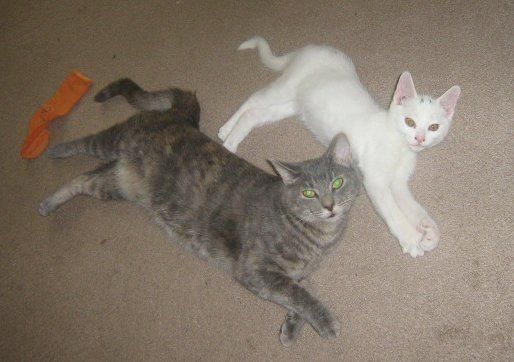 (Didi, the gray one, and Sushi, the white one, when he was a baby! Also, a random orange sock monster...)
Hi everyone, hope you're all having a great VD!