Hello, I'm Writer, an New Member here. I have been looking for a friendly place to share my love of cats. The forums that I have found, since the closing of MSN groups, have been technique forums: breeding, discussing of breeds, ect. While I think those are essential to understanding (possibly) the nature of cats, I wanted somewhere were I could share my fur babies, also.
I'm 32, and, if you couldn't tell by my screenname, I'm a writer. More specifically, a novelist. I have had a couple of cats over the years.
When I was twelve, we added a domestic shorthair to our family. She was only eight months. Her owners had abused her, neglected her, and, then, ultimately abandoned her. They didnít have her spayed, and her kittens passed away inside of her. The owner wanted to put her down, and my mother came to an arrangement and ended up purchasing Sassy. She was so starved that she could only eat 1/2 can of Fancy Feast at a time. I feed her, encouraged her to eat. She is turning 21 this year, but I only see her 1 time a year since my family lives 6 hours away.
Then, I adopted Church, a very beautiful black cat, through the newspaper. He was like my shadow, forming a special bond with him. He would even sleep in bed with me with his head on my pillow, laying on his back with his side against me. When I delivered my daughter, his affections went to her. While he was not allowed the room with her (without supervision), he would lay against her closed door (and later the baby gate). My Church passed away three years ago. It was suddenly and very painful. Although I was married, Church was my best friend. He was someone I could talk to, someone who would not complain, and would listen unconditionally. Then, he would offer a reassuringly headbutt.
Finally, we come to our latest addition of our family, Loki. My daughter has wanted a cat for the last few years. She has just turned six this year. I thought that she is responsible enough for a pet. We got a cat, and she is responsible for its evening feeding and scooping the litter on the weekdays and everything on the weekends. I take care of Loki during the weekdays (and show her how to properly care for the cat) and always refill his pet fountain, so he has a constant bowl of fresh water.
Loki is a shelter cat. He's an orange (almost creamsicle looking coat). He was originally named Atlanta. We decided to name him Loki, after the god of mischief (not to be confused with the Marvel depiction). Loki has had a traumatic past. He was dropped off at the SPCA when he was a kitten. He has just turned two, and no one had adopted him.
When we were searching for a cat for my daughter in their free-roaming kitty place, Loki followed us around, like he was showing us the cats. He was the first one that allowed my daughter to cautiously pet him. Loki is a very gentle giant, a large muscular male cat. My daughter is very hesitant around new animals, but both of them took a shine to each other.
Normally, it took a cat a couple of days to adjust. With Loki, since he is a social cat, he didn't want his "special" room. He wanted to be with the family. We adopted him Wed, and he is a regular part of the family now (like he always been here).
Here is a picture of Loki, my precious cat, with his favorite mouse.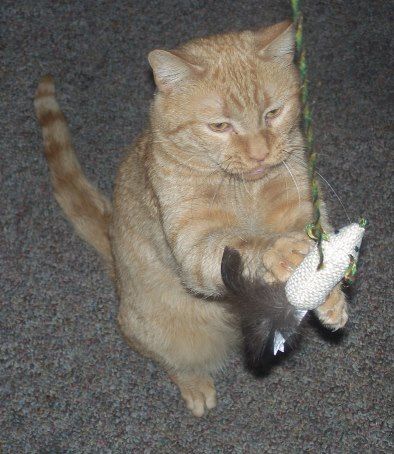 ---
Last edited by marie73; 03-01-2013 at

03:59 AM

.