Hey everybody,
I've been very busy lately. Finishing my master's degree.
Yesterday a friend of mine called me. Actually she is not even my friend. She was the girlfriend of a friend of ours (my bf and I). And they actually broke up a few weeks ago. I had seen this girl like 2 or 3 times...anyway, she called me very embarrassed -she was like "Hi, I know we barely know each other, but...." to tell me she found four kittens inside a box, outside her work place. Her boss said "don't you think of leaving those animals here". She hid them under her desk until lunch time. Then she took them home and called her dad.
Long story short, she had no idea what to do. She was even afraid to handle them. When she called me she was back to work (dad with the kittens at her apartment) and she was desperate. Dad was trying to feed them milk (cow) with a cotton ball. It wasn't working, of course.
So I grabbed some stuff and went to her place (awkward, dad opened the door, of course we didn't know each other!). I was ready with some formula, a kitten bottle and a heating pad, all old grabs from when I rescued the roof feral kittens (Rulos among them). But roof feral kittens were 2 weeks old, and these little ones...I would say 2 or 3 days. What do you think (I took 3 pics with my phone). They were all covered in dirt. I cleaned them the best I could. No fleas as far as I saw...I hope that's true. It seems to me they are all boys, but 2 of them were so dirty I couldn't tell.
My "friend", her name is Patty, arrived home soon after that and I taught her how to prepare the formula and feed them and make them pee. She became confident enough to handle them and feed them by herself. I left the heating pad for them.
Today it is a holiday here, so she's with the babies at home. Tomorrow she has to go back to work, so I offered to foster the kittens starting tonight until Friday night, when she's coming to get them back.
I don't have experience with kittens this small. I saw Ice and brothers being born, and these ones still have their umbilical cord, so I would say they are definitely not older than 4 days the most. Patty called me and she said they are eating A LOT (they must have been starving).
I'm thinking of taking them to my vet tomorrow. I don't know. What do you think. Also any advice or idea is most than welcomed.
So...here I am again, co-fostering little ones...I'm a little bit anxious/nervous. I have the bathroom ready, and everything else worked out. My bf freaked out 'cause he though we were adopting more cats :lol:
I hope my boys behave.
Thank you for reading and for your help guys!
And if you allow me, let me say: ******** heartless people who abandoned those little ones in the middle of the street. If it wasn't very hot here in Santiago now, they would be dead.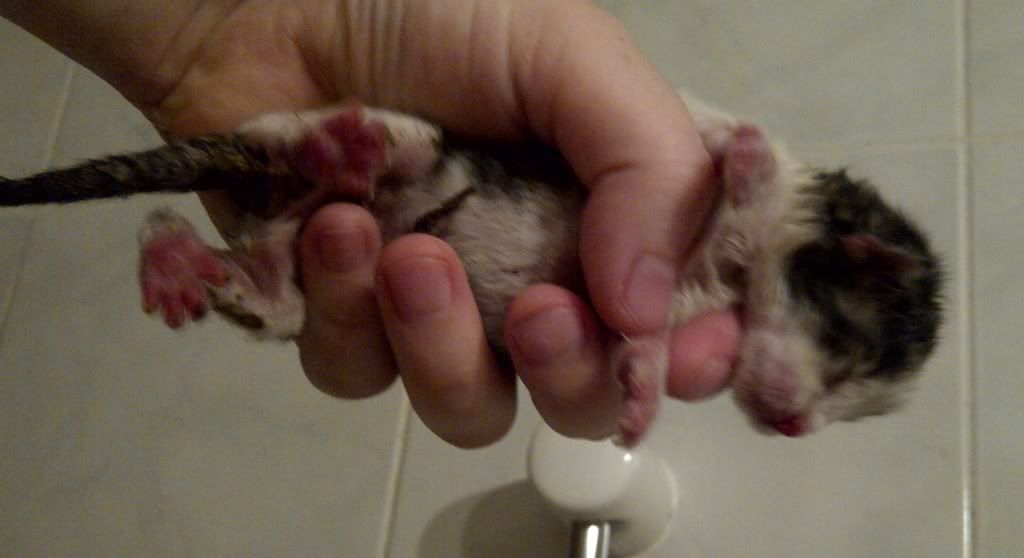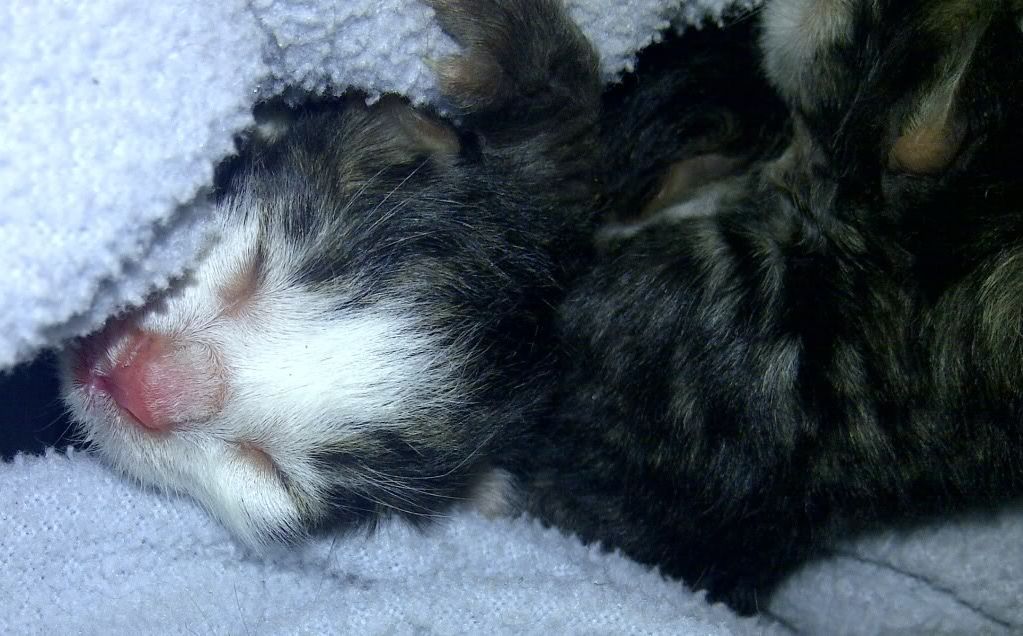 cuteness overload 8-O