Discussion Starter
·
#1
·
I am becoming increasingly concerned with behavior one of my adult male cats is showing towards my foster kittens.
Background in case you didn't see my post introducing myself. I have two adult male cat:
Lord Byron (10 years old)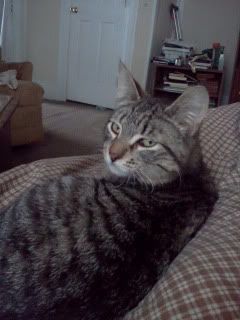 Poe (a little over 1).
They are both rescue cats and have had to come through a host of odd behavior but they are thriving now. I recently began fostering kittens for the local humane society. I currently have two living with me:
Topher
Cubby
AKA the Gruesome Twosome (about 8-9 weeks). Introductions went well, and now everyone is able to get along.
Then about three days ago, I look up from a book to see Poe carrying Topher by his scruff. He carried Topher into the bathroom, then dropped him into the tub, then went to find Cubby. By the time he got back with Cubby, Topher had escaped from the tub and he started after Topher again. I distracted him and stopped the behavior. I was baffled because there was no obvious signs of aggression, nothing in the body language that indicated Poe was angry or annoyed. I thought, since the bathroom was the kittens' "room" when they first moved in, maybe Poe was trying to "put them to bed."
Then two nights ago, I saw a similar, but to me "escalated" version of the behavior. In my apartment, there are three stairs leading from my living room to my kitchen. I was in my kitchen. I looked over and Poe was at the top of those stairs, holding Cubby. Then he tossed down the kitten down the stairs. I have no clue what he was thinking or what his "intention" was.
I decided to go back to confining the kittens when I am not at home to keep an eye on things, but I am curious if anyone has any ideas about what's going on with Poe.
On another note, the kittens are sweet as can be, but have absolutely no manners. They bite, scratch, climb legs, and have no sense of boundaries with the older cats. (more so than any of the other kittens I have fostered combined!) I'm a big believer that the best job a human can do with socializing and 'training' pales in comparison to what another cat can do to help them learn. So if something is going on and Poe feels the need to put them in their place, I'm all for it as long as I feel like they are safe. The dropping down the stairs seemed unsafe to me.
I would be interested in any and all suggestions
Thanks!