Discussion Starter
•
#1
•
Here she is 3 weeks ago. This was the first picture of her...it was taken on her first day home.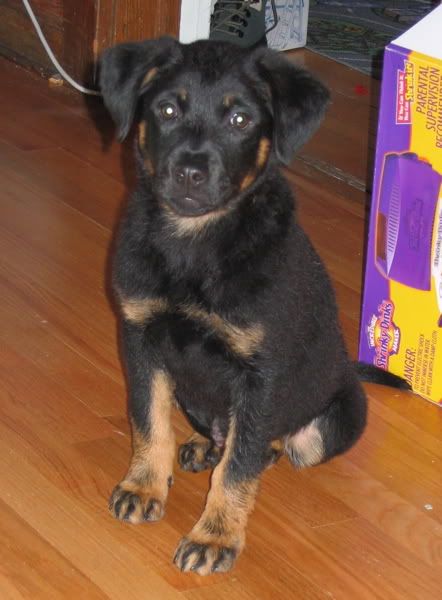 Here she was just yesterday.
Only 3 weeks later.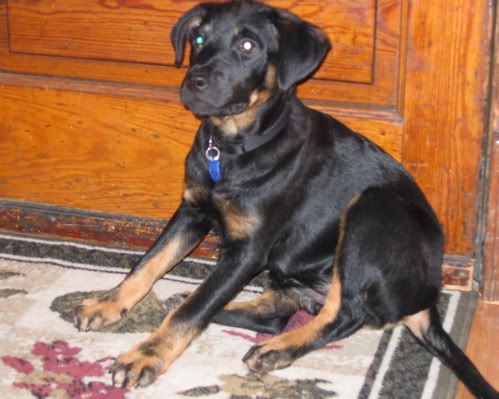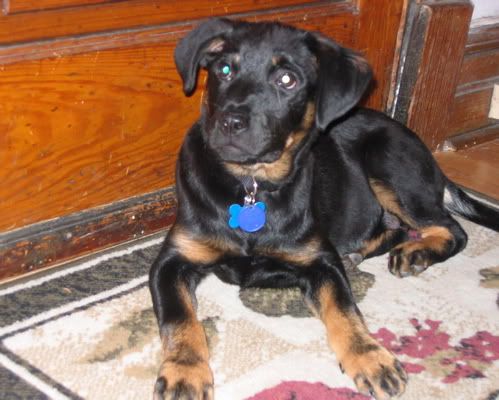 Here she is tonight, sharing the couch with Addison. They just LOVE each other. This introduction went MUCH smoother than that of Franny & Addison.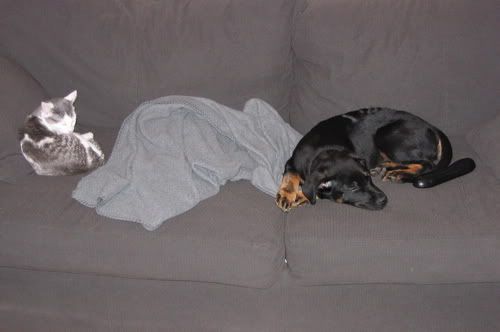 And, here's another of her sleeping tonight. She's a Rottie Mix, we know that, and it's so obvious. Not sure what else she's mixed with though. Most say Lab...but look at this face, I'm seeing a lot of shepherd. I didn't see it at first, but I do now.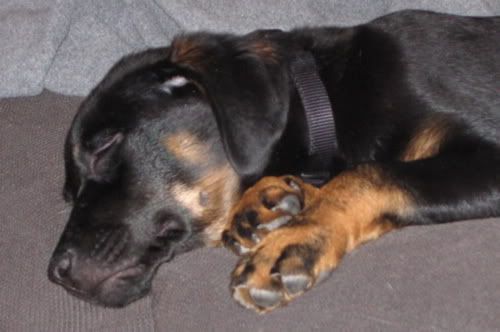 She's doing FANTASTIC. She has a crate, but we don't use it all that much. If I'm really doing something where I can't watch her, she'll go in the crate. The first week she was in her crate, but I've been letting her sleep out of it the last 2 weeks and she's been an Angel. Literally. NOTHING has been touched....well, with the exception of Addison's little furry mice toys.
She's only had 2 accidents in the house in the last 9 days and both were just pee and were totally my fault. She had been running to the kitchen and standing by the back door, but I didn't notice her. She tried to tell me, so I guess I deserved it. She has learned sit, down and stay pretty well. She still needs some work on "stay". She also is a master at "drop it". She seriously opens her mouth and lets whatever is in there just drop to the floor as soon as I say it. If she doesn't drop it on the first try (which is rare) I'll start to get up to walk over to her and she'll immediately drop whatever it is as soon as I start to stand.
ALL this in 3 weeks and without LAYING A HAND ON HER. I only say that because I've had some work friends and a family member or two (uggh!) insist on housebreaking by putting "their nose in it" or by rolling up newspapers to smack their little butts or any other form of punishment by hitting, smacking, etc. (GRRR). Every time I said that you shouldn't do those sorts of things, I got the same response..."Well, it works." :evil:
Anyway, she's doing great and I just can't get over how fast she's growing. To think, 6 weeks ago she was all alone practically starving on a highway in Kentucky and only weighed in at 8.7lbs. Now, she's 25+ lbs - 8O .
It will be interesting to see how big she gets, since we don't know what else she's mixed with...could be weiner dog for all we know. :lol: