Discussion Starter
•
#1
•
- I went a little overboard with the background story, the question is in bold. Thanks guys. -

I am the proud mother to three amazing eight month old kittens. Two are from the same litter, and one my fiance and I recently adopted.
Stoli and MJ, as opposite as they are, are my siblings. They have been in our family since they were 10 weeks old. MJ my giant fat cat, and Stoli my tiny calico are both obviously American Shorthair.
About a week ago we decided to take Stoli to get spayed at a local animal shelter. MJ has been neutered for some time and the idea of breeding Stoli had always been in the back of my mind - but with health concerns and her size I decided it was time. Being at the shelter that day was fate, as silly as that sounds. Waiting to pick Stoli up my fiance and I were browsing around looking at all the animals when I stumbled upon a tiny grey kitten shaking in this huge grey cage.
I asked his story.Chromeo (as we later named him), was left in front of the shelter in a box with several litter mates a couple weeks before. They all were dirty and looked as if they had been living outside for quite some time. They were the youngest cats at the shelters at the time, so they placed them in this large cage in the middle of the largest room with the most foot traffic.
Well, poor Chromeo did not adapt well to this, rarely played, wasn't vocal, didn't eat much, and hid when took to be considered for adoption. All his siblings were adopted within a couple of days and because of this Chromeo did not have much time left at all.
After hearing this I adopted him on the spot. The staff kept trying to warn me that he was just too shy, and it would probably take weeks for him to come out of his shell, and told me if i brought him back they wouldn't blame me - I had a thirty day test run.
It was just as I expected with Chromeo. He is the furtherest thing from shy. He plays in the sink and the bathtub, and can make a toy out of anything and everything. I don't think he has left my side since we've brought him home except to create havoc or another mess to clean up. Stoli and MJ have slowly welcomed him into our family and watching my old cats bounce around again puts a smile on my face.
Chromeo is a unique looking cat, and looking at him next to Stoli and MJ - I just cannot say he is a run-of-the-mill American Shorthair. He has a sharp face and long ears tipped with hair. His legs are unusually long and his paws, specifically his back ones, but his fronts ones as well are just huge. He also sports a longer, more slender tail than either of the other two. He also doesn't meow, and it isn't quite a chirp either - it seems as if he is talking to you.
The curiosity is killing me. I have looked up cat breeds online and have several ideas but everything seems to be a little off. Maybe more seasoned cat owners would have a better idea? Any opinion would be wonderful.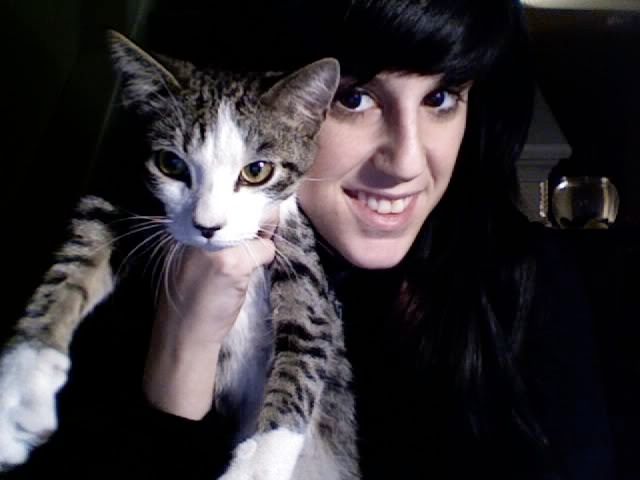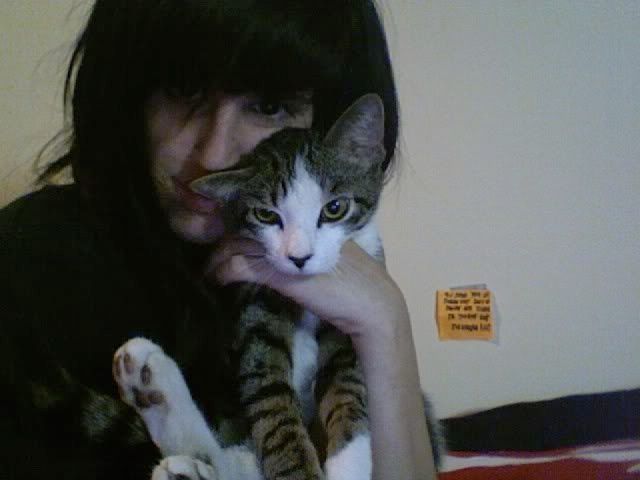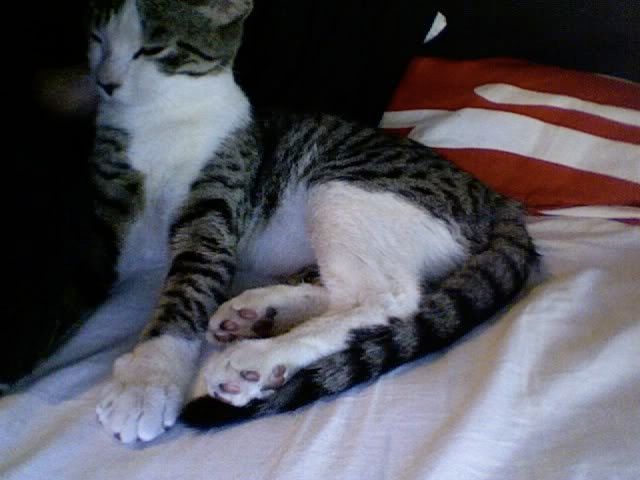 and because I cannot leave the other two out.