Discussion Starter
•
#1
•
Well I was on Craigslist and stumbled upon someone who sells cat trees. I already have one, an armakat (right?) and the 3 cats love it! But I was thinking... His one has a tunnel and more scoops which they may enjoy more... Would it be worth switching? It's about $130 and I bought my current one for the same price on Amazon. I could probably sell it for $90 or so. Or maybe keep both? I'm not sure if my family would be happy with that idea haha.
My current one: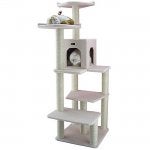 It has the rope scratcher, toys, and the faux covering. They don't use the bottom levels at all. I put it together, my cats love sleeping on top of the box. (generic photo)
The new one I'm Looking at:
Not sure what the covering is, looks good though, variety of colors, rope, all the cool things.