I have read every single website about catching feral cats and setting traps etc etc.
So now that I'm decided, I just want to tell you about my plan and maybe you can share some advice with me. I will appreciate it so much, honestly.
And thank you for reading such a long post!
This is the story: We rescued Chiquis, our 5 months old baby from my boyfriend's office. He fell from the tin roof I'll show you later. He was in pretty bad shape so we had no choice but to separate the little 1 month old baby from his mom (from now on "Mom Cat") and take him to the vet to check if he had suffered from the fall and to cure his eyes (he had an awful corneal ulcer). We adopted him and now he's a healthy, beautiful kitty!
Mom Cat and one kitten (brother/sister of Chiquis) continued roaming the office. We began to feed Mom Cat and brother/sister cat from that very same day (Royal Canin dry food). 5 months after, they have gotten used to our voices and the everyday office sounds and stuff, but they refuse to get down that awful tin roof that actually belongs to the property located right at the back of the office's patio. We have to settle with them eating and drinking on top of the roof. They run away when we get too close.
So, I have decided to catch them. Mom Cat is going to get pregnant again if I don't, and if brother/sister cat is indeed a "sister", she will get pregnant too (or get other homeless kitties pregnant if he's a he). I'm not expecting to find a home for them, but at least I can take them to the vet to address any health issues and get them spayed.
I don't think I can set a "drop" trap on that roof. A cage with a sliding door (that I can close once they both are in there) is the idea I have. I can't use an automatic one either, 'cause if one of them steps on it and the other one is outside, I guess that's it for the catching operation.
And of course, I'm gonna have to build the trap. I can't buy anything like it here in Chile. I'm pretty determined to do whatever it takes to give them a better life. It just keeps me from sleeping at night. I think I owe that to Chiquis.
Any ideas, comments, am I doing something wrong?
Here are the pics:
My baby Chiquis
With Don Gatito my other baby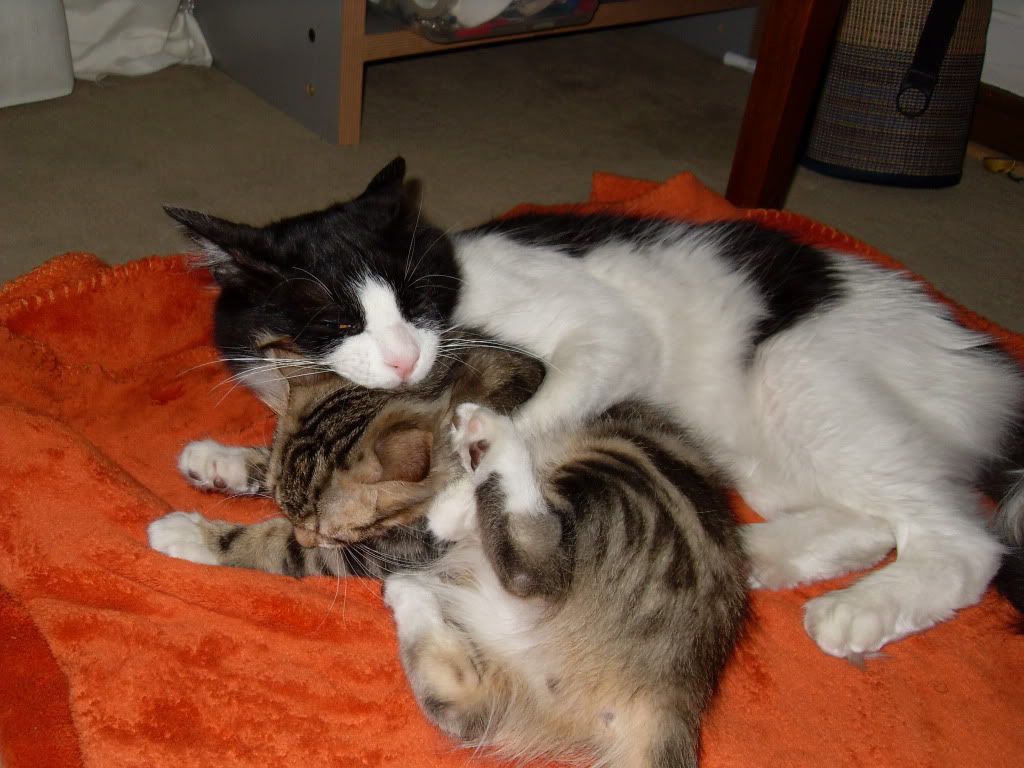 Office photos:
Mom Cat and brother/sister kitten at the back.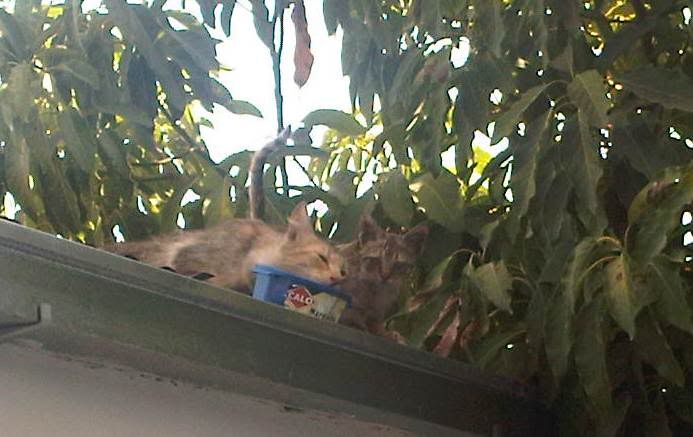 Bro/sis, it just breaks my heart to see him/her living like that.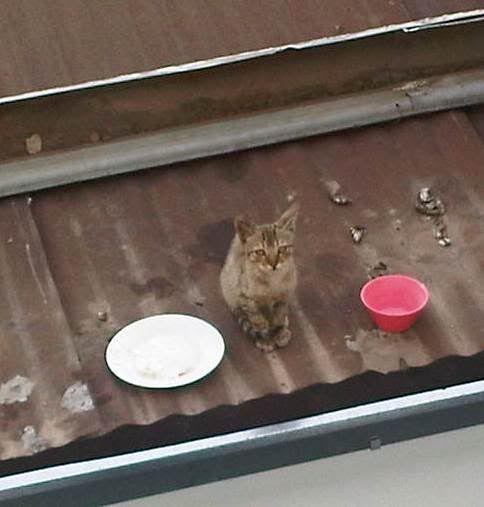 Another one of bro/sis, it looks like he/she has been gaining some weight, but not enough.
Thank you so much everybody! :catsm