Discussion Starter
•
#1
•
My house has a wide beam (about 18" wide, 1 foot tall) that connects the second floor balcony to the entryway wall that my kitties love to jump down onto. Due to a combination of issues (one cat periodically likes to guard the stair case, thereby blocking access between upstairs and downstairs, plus my older cat isn't the brightest at figuring out how to get off the beam) I've been trying to build a way for my kitties to easily get up and down from the beam.
I found the Contempo Cat site and decided to use their system. Unfortunately, the IKEA parts their platforms are supposed to be used with have been discontinued. I managed to get the clamp parts, but not the pole (it's out of stock locally and though their website shows it in-stock, it errors out due to being out of stock when you get to checkout). I've used a wooden dowel that fits the platforms and clamps instead, but it's very wobbly. I placed two of the cats on it (with catnip) to test, and while the platforms are very solid, the main pole itself wobbles side to side, even if they're just tentatively walking on the platforms. I'm nervous that it will wobble WAY too much when they jump up onto it (especially when my 16lb not-so-graceful-but-energetic kitty eventually makes a mad dash up it).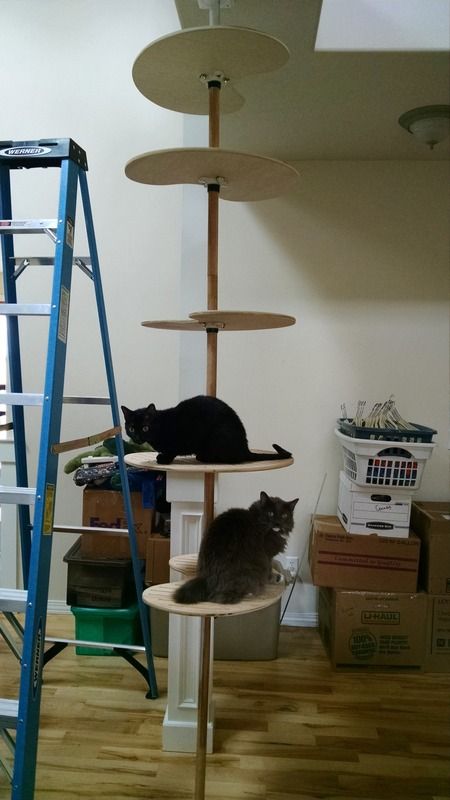 I was planning on adding an 18" wooden block base at the bottom and wrapping the pole with sisal, but I doubt that will add enough stability. Are there any other things I can do to strengthen it, or do I need to scrap the wooden dowel and find a metal pole instead?