Discussion Starter
•
#1
•
Disclaimer: Sorry for this post being so long, but she means a lot to me
When I first adopted Egypt from the ASPCA back in late June of this year, I was encountered with a skinny, but very cute and petite 2.5 year old blue tabby with quite a few behavioral problems and 2 broken upper canines. They could not explain why her teeth were chipped so I had her assessed by the nurse at the shelter to ensure her teeth would not be a problem with her feeding. I was told to monitor the situation down the line, and that most likely she would require her teeth be extracted in the future. I chose to still go ahead with the adoption.
When she first arrived, Egypt would come right up to your plate and attempt to help herself, attempt to climb up your clothing by digging her claws into your pants (and some of your skin) and work her way up to your shoulder when she wanted attention, pace around the room back and forth when annoyed or stressed, rummage through the garbage for leftovers, and attempt to dominate all the food bowls anywhere near her. Her food aggression was so bad that I quickly learned I needed to separate her and feed her in an isolated setting or else she was going to seriously hurt Azalia, our only resident cat at the time. It was rather unnerving to witness her jaw strength. She would shred through chicken thigh bones in seconds and ate practically anything that fell into her bowl, very much like a furry trash compactor.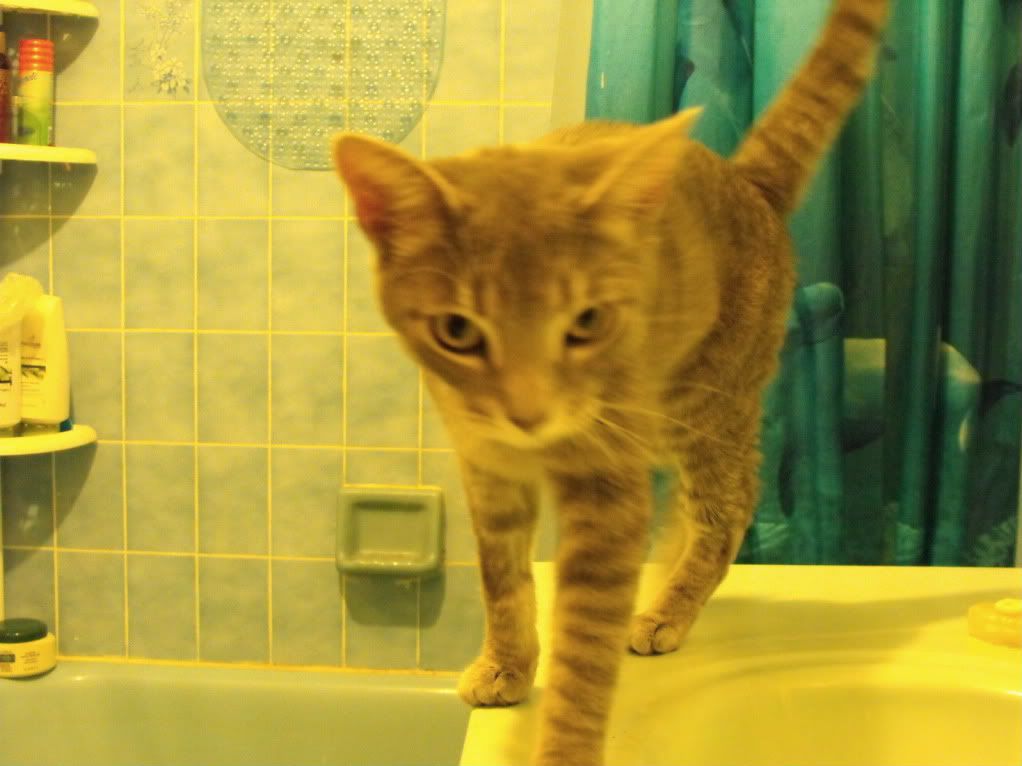 Egypt was so very thin. She looked much younger than 2.5 yrs old
She was so wary of us and any other cats near her when feeding that she would growl and stand in a ready to pounce position whenever anyone approached her or her food bowl. I made a mental note so as to not disturb her, refrain from entering her feeding room, our bathroom, until she was finished. There were many times in the following months when I wondered if I had made the right choice. She was very aggressive towards our other adult cat, Azalia, and constantly would leave her fresh stinky feces uncovered to mark the litter box as hers.
Was it too late to give her back?
They did say that if I could not keep her for any reason I could bring her back, but I knew that if I didn't stick it out with her, another adoptive owner may not have been so patient and she might have met a very grim fate down the line. I couldn't see myself giving up on her entirely. In my heart, I knew she just needed love, patience, and structure in her young life. In my eyes, she was not beyond redemption....
at least not yet!
She came to us with a horrible Upper Respiratory Infection (URI), which required antibiotics, and the constant application of an eye ointment several times a day. The persistent ailment did not make itself known until about a week after we brought her home, and of course, the very next day after I had her checked out by the ASPCA's vet, yes, the complimentary visit. She was sneezing and coughing all over the place, she was too skinny, and her left eye was runny, red, and squinty. Her coat was dull and a very light drab color. You could see her spine and ribs through her skin. Her diet was atrocious, and she did not understand the meaning of the word no despite how you ennuciated it or how many times you squirted her with the proverbial water bottle. I ended up spending $125 extra dollars on the vet bill that I really couldn't afford to spend, but I couldn't watch her deteriorate any more than she already had.
These conditions were not optimal for her to place her trust in her new home among these strange and pesky humans, and her behavior began to get worse before it ever became better. There were a lot of very abrupt changes in Egypt's life. Her diet was changed, her home was changed, she had to follow man-made rules now, and she was now being fed vitamins, which weren't always the most tasty to support her compromised immune system. When she chose to be a wise-ass and eat the food, and leave the pills, which were concealed by the food, I had to give her the pills orally. I ended up being bitten quite a few times.
Eventually, Egypt began to get better physically and to realize no one was going to take her food away. She began trusting that there would be more food coming at the next meal, and that we were not out to hurt her, but that there were rules to follow; medicine being administered and regular nail clippings had to be tolerated. I also realized the reason why her teeth had been damaged was because when she managed to get a toy or object of interest in her jaw, she would not let go. Instead of engaging in a repeated series of tug-o-wars with her and risking any further injury to her canines, I would simply let her have the toy. She would carry it away proudly and then quickly tire of it. She then began bringing her toys back so that one of us could make them move again or for them to be tossed so she could continue playing.
She was slowly becoming a true housecat, and a loving pet rather than an animal, who fully believed it had to fend for itself. She stopped darting for the door at every opportunity, and I began taking her outside for walks on a leash and harness. She began enjoying her outings, and I noticed she was less restless all the time. As more time passed, she would simply choose to come back into the house of her own accord instead of having to be coaxed to come back in.
Today is Egypt's birthday. She is 3 years old. She has quickly become my best girl. I can definitely see how she has enriched my life, and I can only hope I have done the same for her. I sincerely do hope so. I remember how every time I used to pick her up and hug her, she would fight me, and as soon as she was able to, she would nervously leap out of my arms onto the floor or a nearby platform. She would never scratch or bite, but I knew the 'closeness' bothered her. But, every time she attempted to climb up my clothes, I would pick her up and hold her close to me, and predictably, she couldn't wait to escape out of my grasp.
Last night, she approached me as she usually does these days. She stood on her hind legs as if getting ready to climb on me, but her claws were not extended, and she was not digging into my pant leg as she usually does, she was merely propping herself up to get my attention. As expected, I picked her up, and began hugging her and rocking her back and forth; after all,
she is my baby!
This time, I noticed I had grabbed hold of the side of her face in my excitement and was holding her so very close to me. For a second, I thought I shouldn't be forcing this much affection upon her. I quickly let go of her face, but she didn't squirm. She was merely resting her head on the side of my neck and she was purring with her eyes half closed. I can't describe how happy I feel that Egypt and I now share such a close bond. It is that much more special because there were so many challenges before us, so many things that needed to be worked out before we got to this point.
Egypt on the right with her adoptive sister, Lacey on the left
She has become the most affectionate of all 3 of my cats. When I get home from work, she follows me into the bedroom while I change, and she makes it very clear that she expects her hug. She will sit next to me whenever she wants to nap. She is not a lap cat by any means so I know she will never sit on my lap for extended periods of time, and that's perfectly OK. Sometimes when she's feeling particularly loving, she will push her head into my chest so I can pet, and hug her for a while. At night, she faithfully sleeps at the foot of my bed without fail. She has recently accepted that our newest feline addition, 6 month old Lacey, to also park herself near our feet while we sleep.
Yes, she still has her quirks. She still has to be fed in isolation, and sometimes, if I see she's too excited, I can't trust her to be around someone who is eating and not lunge at their plate, or around any unattended food during meal preparation. But, for the most part, she knows better. She still jumps on the kitchen counters, and she still wrestles quite aggressively with Azalia leaving her bruised and scabbed when they really get into it. She is a cat who likes to live on the edge; a rambunctious little being with a very pronounced wild streak. It touches me so very deeply that she has chosen me to be her special friend.
Looking back on it, I guess she always knew this. When I was at the shelter before I even decided she would be the one, she simply came up to me and made it known to all the other cats that I was taking her home. She jumped right up on my lap and began head-butting me, and a few moments later, she sat on my lap as she unmistakably purred. She did not move until I finally agreed to bring her home.
I just couldn't say no to her possessive display then, and today, 5 months later, I am glad I chose not to!