Discussion Starter
•
#1
•
I forgot to add a current and past history of my catscapades.
I have had 3 siamese cats in my life.
One from birth to about 2 years old, but my parents had him for 16 years before. His name was buddy. My grandmother used to breed seal point/applehead siamese and my parents took Buddy. I dont remember him, of course as I was so young, but have seen plenty of pictures of him laying with me as an infant. Must have been when my love for Siamese cats started.
Shortly after he died my parents bought Sammie, flame point siamese. He was my best friend for 20 years until he sadly passed last thanksgiving. He was a bit of an oddball. My parents bought him from small breeder who sold him at to young of an age and he contracted ring worms. He spent about 4 months in the vet getting treatment. I really miss him.
Next comes Sophie, the seal point siamese. I got her about 8 years ago for a birthday gift to my mother, but seemingly was adopted by her. She wouldnt leave my side. If I went to the bathroom, she walked with me. If I was cooking, there she was. Basically, she was everywhere I was. LOL, I remember if my door was closed and she would get down the hallway and run full force into my door to get my attention. She was such a sweetheart. One day while I was at work she somehow got outside and I come home and someone had hit her by accident.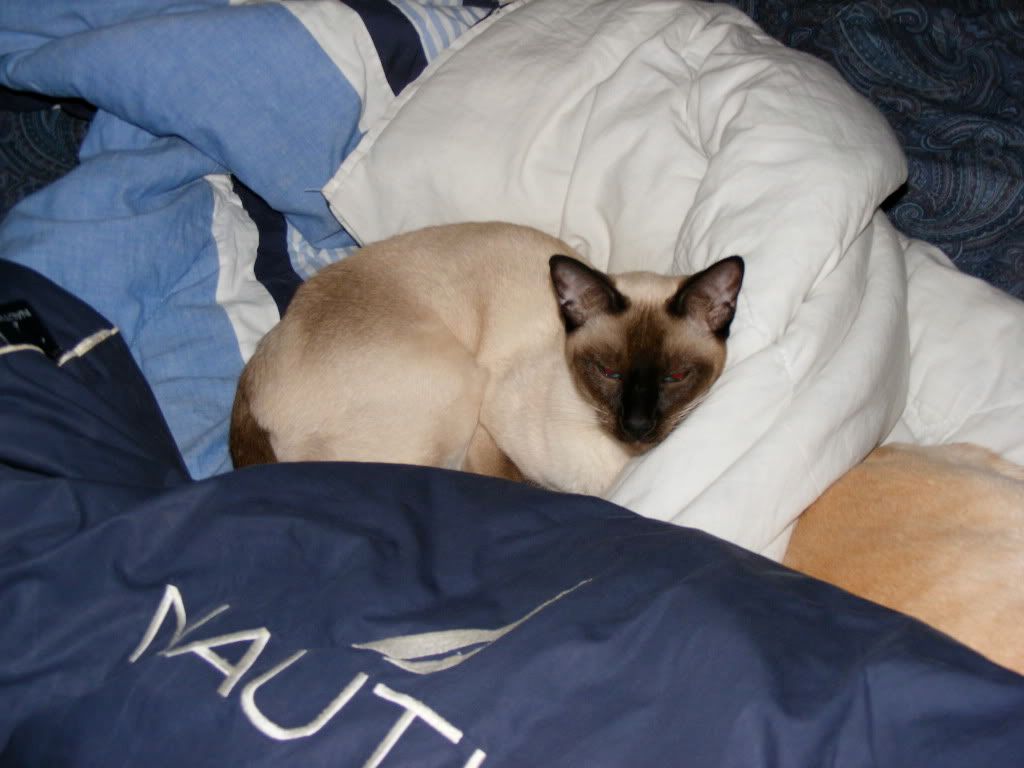 I just got married about 7 months ago and we decided it was time to get another cat. I called up a breeder about getting a lilac point siamese. Well after a while of talking to her she informed me she had a little male seal point balinese out of the litter. So we drove 80 miles to see her cattery and kittens, and when I saw the little balinese kitty I fell in love. He is about 5 months old now and is so affectionate. When we lay down for the night he will come up rub all over you and give you good night kisses all over your face. He is also inherited the recessive bobtail gene. He is so cute waddling his butt when he walks. LOL I havent uploaded a picture yet but when I do I will post.