Discussion Starter
•
#1
•
I got a plea from my coordinator to take on a bottle baby that was abandoned with her that she couldn't take care of because of her summer work schedule (she normally is the one to do this) so because I'm off for the summer I agreed to take her.
I got her last Wednesday and it was guessed that she was about 3 1/2 weeks old. She is so stinking cute.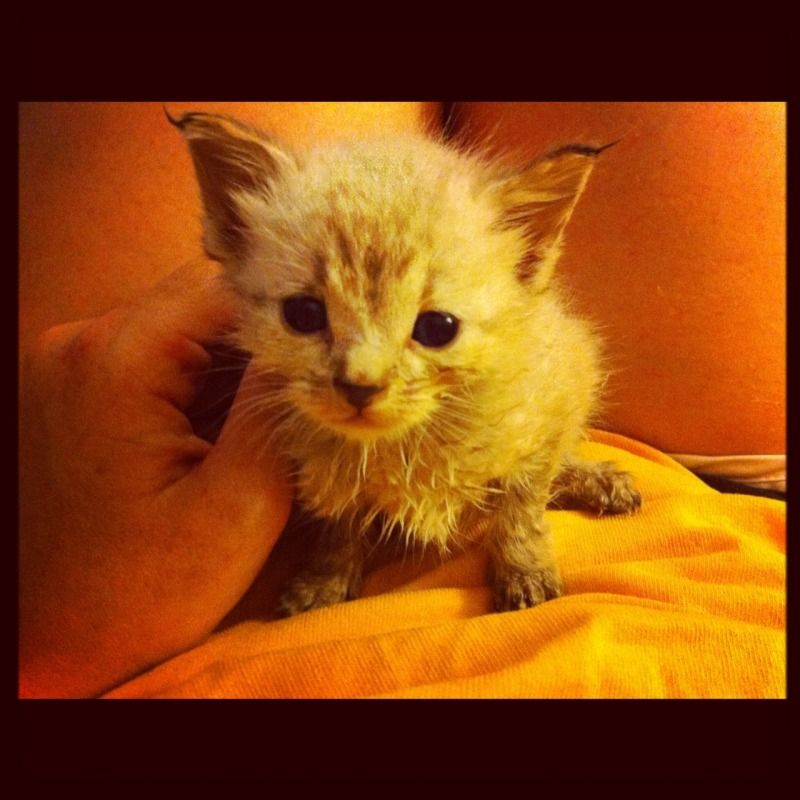 She had a bout with bloody stool that cleared up when she started Albon which we keep on hand for our baby kittens, but then her stools got progressively worse even with the meds. I woke up Monday to find her completely paralyzed and maybe blind? (she didn't act like she could see me) but a quick dose of Karo syrup jump started her system and she was up wanting to eat within an hour. Tuesday was probably her best day out of the whole week. She was up running around (albeit somewhat clumsily but so adorable!) and playing.
Wednesday brought on worse diarrhea that progressed to it literally dripping out of her behind every 30 minutes to an hour. Her energy level dropped throughout the day. She played a little but nowhere near how she was Tuesday.
Yesterday her diarrhea continued to get worse (yellow in nature and all liquid) and her energy level was almost non-existent so I called my vet to have her worked up. Her fecal test revealed coccidia (which she was being treated for with the Albon), roundworms and bacteria (starts with an s, can't remember the exact name). The vet dewormed her even though she's only about 4 1/2 weeks and gave me metronidazole for the bacteria and instructions to continue the Albon for another week.
Because of her lethargy and lack of appetite yesterday I gave her a preventative dose of Karo syrup once in the morning and once right before I put her to bed. She had been receiving force feedings of her KMR/Pedialyte mix to keep her hydrated as much as possible. I fed her every hour from 8-12 then had my alarm set for 2, 4, 6, and 8 to get up and feed her every two hours.
A few minutes before my alarm went off at 2, I was woken up by her crying. I ran to my closet and looked in her box to see her rolling around on her back, rigid and showing signs of another crash. I dosed her quickly with Karo and sat with her waiting to see improvement. When she did this Monday, she bounced back in about 20 minutes. After 45 minutes with minimal improvement I dosed her again and willed her to get better. Through my tears and prayers she finally started moving around a bit. I gave her 2 syringes of straight Pedialyte and started feeding her a syringe of formula every 10-15 minutes and a dose of Karo every hour.
Over the next 3 hours I've been spacing out the Karo and trying to let her rest. She hasn't been doing much of anything but sleeping but she will wake up when I try to force down some formula.
I've got another hour until our (humane society) vet opens so I can get her in there for some fluids. Not really sure what they are going to want to do aside from that but I am just worn out. Watching her fight so hard at such a young age and keep having issues is the most difficult thing I've ever done.
Prayers are appreciated for my little Willow.