Discussion Starter
•
#1
•
Yesterday, 15 April, was Skeeter's first birthday! I can't believe we've had him for almost a year (we adopted him in July of last year). What a good boy he's been and what a great big brother he is to Binx. We are so lucky to have found our "little man" (as he prefers to be called). And though he may have his annoying habits--biting our toes in bed, meowing out the window at nothing, not letting us alone in the bathroom in PEACE!
--so do we all, and they are part of his unique personality.
Here is our fella on his first day home. He is 3 months in this photo...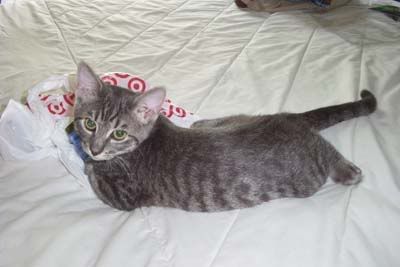 and here he is now, laying in one of his and Binx's favorite sunning spots.
I can't believe that little buggar grew into such a big boy! He's a BIG kitty: 12 pounds healthy.
How did I miss all of that growing he did?!
To celebrate, we're doing his favorite thing:
a ride in the car!!
(I've said it before: the silly boy think's he's a dog.)
HAPPY BIRTHDAY, SKEETER! :lol: