Discussion Starter
·
#1
·
And this is where I introduce myself
I'm Kimber and live in Halifax, NS. I used to work as a veterinary assistant, but went back to school to take a business course. Currently I am working as a customer service supervisor for a large company...I miss working with animals!
I live with my boyfriend and our animals in an apartment currently. Hoping to move into a house within the next few years.
And now the part you really wanted to know....the animals!
I have two rats: Simon and Baxter. They are sweet, affectionate and neutered. Baxter was rescued from a person whose snake didn't want to eat him and Simon was a rescue from over 2200miles away that a friend brought up to me when she came to visit. Both are over a year old and enjoy living in a HUGE cage that could actually hold 10 rats, lol....spoiled rotten.
The boyfriend is a big fan of fish and has a bunch that will be moving from his mother's house to ours in the near future. He doesn't name them, so I've been slowly naming them all.
Now the kitties (which is why we're all here)!
Currently we have two cats living with us. Slim (orange tabby) was adopted in June as his owner could no longer take care of him (elderly woman). He was 15 this spring and is neutered and declawed (the declawing was done prior to his other owner getting him). When I got him he tipped the scales at 20lbs!!! We're slowly working on lowering his weight without causing stress on his liver and he already has a healthier looking coat.
My boyfriend adopted our other cat in May from the SPCA. Shady (black and white) turned 6 in October and is spayed, but has her claws. She is a very sweet girl who loves nothing more than being curled up on your lap. She's put on some weight since we all moved in together (we only combined our homes in October), but the two cats get along very well.
And before anyone mentions it :roll:.....yes, I know that together we have "Slim Shady"....yes, it's a coincidence....yes they were named before we adopted them separately....lol, everyone thinks it's funny.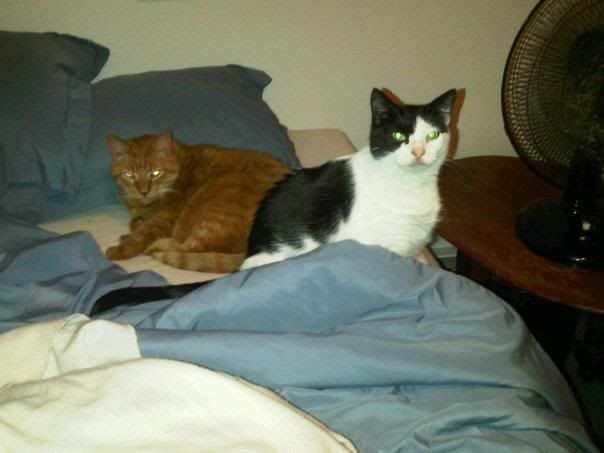 Can't wait to meet you all.