Discussion Starter
•
#1
•
I decided it was time to find a cat forum to join and came across this one.
I'm 31, married with 3 kids, 3 cats, 6 Parrots (little strange, I know :wink) A dog and a few other critters running around.
We all live in perfect harmony though! and luckily I have a large enough house.
A little about my cats:
Bast
, a female gray tabby was our first. My husband found her in a parking lot when she was about 5-6 weeks old, she was feral. She is my cat, she for some reason has some aggression issues, dislikes most people and I am the only one she will love on. She rules the house though. If she is sitting in your chair, you better not try to move her, that is her chair now. We have no idea why she is so aggressive though, no one has ever hurt her since being with us.
She is about 5 years old.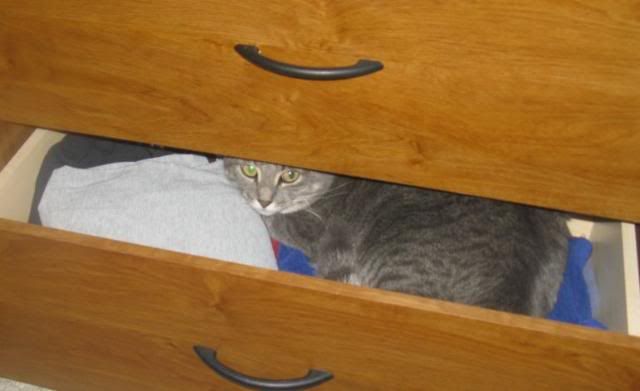 Buddy
, a male black and white, shaggy haired mellow guy was the second.
We actually got him from a Rummage Sale when he was about 8 weeks old.
He is a large cat, about 20lbs and my vet believes he may be mixed with Maine Coon but we're not sure. He is pure muscle though. Very intelligent guy, knows tricks, hardly vocalizes and loves to cuddle. He loves to lay out in the back yard but never hops the 6ft. fence we have. He does have allergies though and his lip will swell. The vet says he is fine as long as it does not bother him. He's about 4 years old.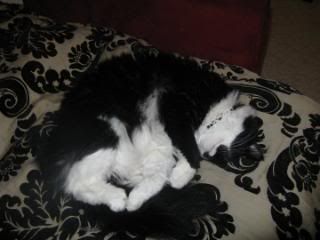 Mr. Whiskers
, We don't know much about him. We've had him for about two years now. I found him under my car one morning. All bones, weighed about 5lbs, covered in fleas, tail half rotted off and I thought he was dead at first. I rushed him to the vet, had him checked for a chip, had him fixed up, he was on an IVs for nearly a week trying to save him. He pulled through though so we kept him, had his shots done and had him neutered. He is a good guy but we believe his back and tail still bother him.
Vet guessed he is about 5 years old but could be older.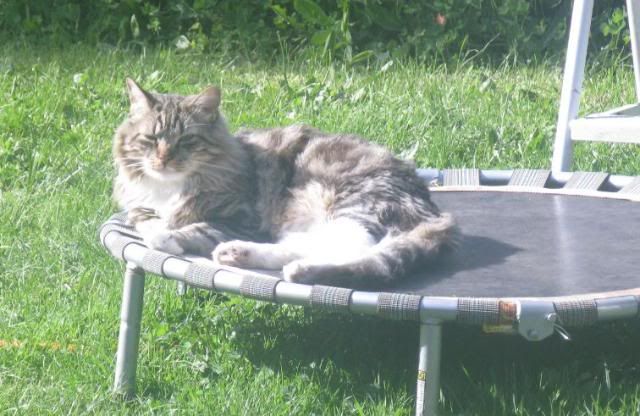 So those are my babies, not the best pictures but my PC is down and having to use my laptop.
I love them to pieces and they are all very spoiled.
Hopefully I can get some great advice from here, get to know you all and talk about cats