Discussion Starter
·
#1
·
Here's my situation:
I have three cats (all spayed):
Mooch-torty-9 years old
Patches-white on tabby-2 years old
Phantom The Klingon (Phantom or Phan for short)-about a year and a half, calico, feral. Mooch is Phantom's great aunt (the lady who adopted Mooch to me takes care of the colony that Mooch and Phantom came from and knows who is related to who).
I have three litter boxes. Mooch has one all to herself. Patches and Phantom share the other two. I cannot get a fourth box as I live in a 2 bedroom apartment. All three cats have been to the vet within the last year and a half. All are healthy. I am a die hard raw feeder too, which has helped the health of Mooch. Sorry about the pics with the raw food. That seems to be the only time I can get the cats to sit still for a photo.
I've had Mooch since she was 3 weeks old. Had Patches since she was 16 weeks old. Rescued Phantom last October.
Patches and Phantom get along great. They play well together. If Phantom gets too rough, Patches will growl and hiss. Phantom will back off and mew at Patches.
Mooch gets along great with Patches too. Granted, she does not play with Patches as much, but she still gets along great with her. The problem Mooch has is Phantom.
When Mooch is in my lap, Phantom will come over to get attention too. Mooch does not like this and will leave the room. If I am in bed and Mooch is cuddling, Phantom will want cuddles too and Mooch will leave the room. Phantom is trying to get along with Mooch. She lays near Mooch and tries to inch her way over to Mooch. At one point, Phantom was able to get a paw on Mooch. Phantom is a lover and I think Mooch sees her as a threat. Mooch, recently, as been misbehaving a lot. Very out of character for her. For starters, she looks for Phantom, goes up to her and starts "smacking" her in the head. Mooch is also urinating out of the box. I caught her urinating in front of the bath tub. She saw me and hid. I have NEVER punished her. I don't believe in punishment, only positive reinforcement. Mooch would not come out for over an hour. I don't know if she was ashamed or afraid. I cannot see why she would be afraid since I have never done anything negative to her. I've yelled at my husband for even considering punishing the cats. I don't believe cats understand punishment. They do not equate external consequences to their actions.
This morning, I woke up to a strong urine smell. Just got done stripping the bed and found three urine spots on the mattress. Two of them are on my side of the bed. Both urine spots are where Mooch and Phantom fight over: at the foot and at the head of the bed. The third urine spot is where Patches lays, at the foot of the bed where the husband sleeps. My best guess is that Mooch did this. The boxes get cleaned on a regular basis. They are uncovered. They are out in the open, but tucked away (not in the closet, but not out in the middle of the room either).
We've tried giving Mooch more attention and ingoring Phantom more. We've tried individual play time (which was a big failure because another cat will see it's play time and want to join in). The ONLY time Mooch dares to behave around Phantom is when it's treat time first thing in the morning: they meow at me together.
I just do not understand what to do. I am honestly stumped. I am thinking about locking the cats out of the bedroom, but if I do that, what are the chances Mooch will try to claim different territory as her own and spray all over it?
As for Phantom being feral: she only trusts a few selected humans and is extremely clingy to those humans. She loves other cats and animals. She freaks out around strangers but will tolerate kids. She's been around humans for about 2 months before I got her. I don't know if her clinginess is what is bothering Mooch or what is going on.
Ideas? Help?
--Beth
Mooch (we since this photo have gotten rid of that box since none of our cats liked it)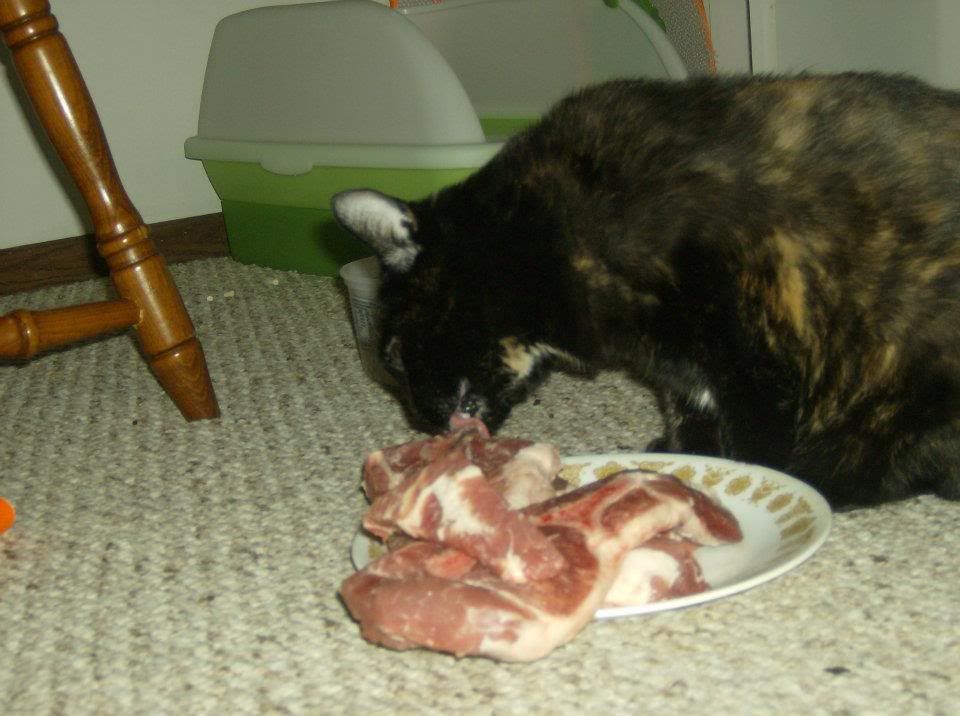 Patches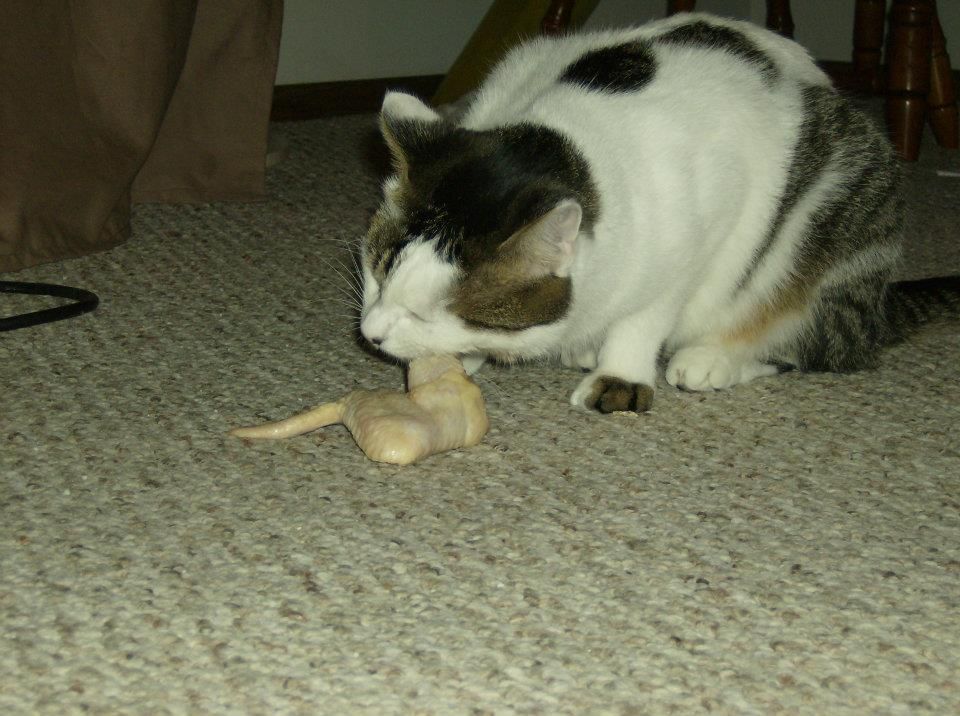 Phantom