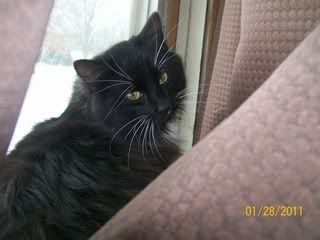 4
Hello I am De-De and I have a total of 4 cats. I also have 3 dogs,a ferret and 2 bunnies. My family and I have never been big cat people but somehow we ended up with 4 lol, We are suckers as they are all "rescues" . I have Fat Albert who is almost 4 which I found on my Birthday in an extra shed we have. Thunder(2) was found in my garage. His mom was hit and killed(my ex neighbor was a hoarder and had a ton of cats...Fat albert I think had the same mom) and I couldn't find the rest of his litter. Then I have Dice and Yoda(9 months). My friends cat had a litter of kittens(I already pounced on her for that) and she was giving the cats away to a not so nice person. We had hit hard times and I had to give up my calico mix cat. I heard this lady was looking for a calico and I gave my cat to her(I go to school with her son). About 3 months later her son came to school bragging on how he had let the cat on fire and killed her!! I was so angry and me and my mom called the AC. They said they could not do anything since they had no evidence. So when I learned my friend was going to give Dice and Yoda up to her I got my mom to say we would take them in! So we went and got them. We couldn't save them all though :/ So from what I was told the other 3 have passed away. I am glad we saved Dice and Yoda and they are characters and keep the other 2 on their toes,lol. They also LOVE playing with my ferret(13 weeks) while my 2 adults stay away.
This is my cat Thunder...his full name is Thunder farts(he stinks when he farts)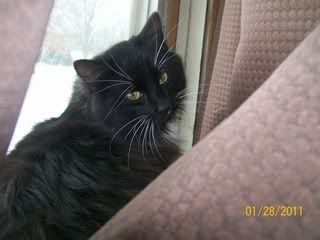 Fat Albert(him and thunder look identical except fat albert has a white mark on his face so that is why I think they may have same mom or dad)
Dice(was playing with my ferret)
Yoda
Hope to get to know you and your kittes!