Discussion Starter
·
#1
·
Shane is the first cat that I've ever had (we never had cats or dogs growing up). I've done a lot of research, but please let me know if there's anything I'm doing wrong or should be doing instead, especially with food and vaccines.
Thanks!
Shane
male domestic shorthair
orange and white tabby
~15 weeks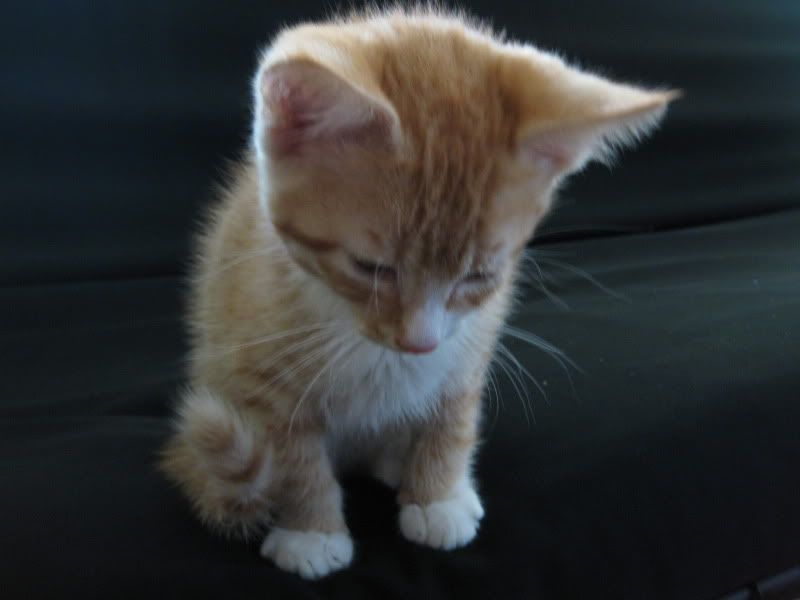 (picture taken at 10 1/2 weeks)
Medical History
Neutered
Indoor only
Avid Microchip
Collar w/ nametag + 2 phone numbers
FRCP#1 + FRCP #2
Frontline advtg
drontal
tested negative for FeLv
(declined FeLv vaccine)
Today at the vet she said he was the most bouncy kitten she's ever examined. He is very active and not shy at all, even around new people. However, when I took him home at Thanksgiving he had this odd habit when let out in the (bigger) living rooms, he would dart like crazy everywhere and sometimes hide in the corners or under the couches before darting to another spot. When confined to a bedroom he acted normal.
Diet
Mainly wet food - he goes through about 2 5.5oz cans every 3 days. He gets some dry food in the late evening, he eats some then and also a little leftover for the morning so he doesn't have to wait for me.
Merrick's Before Grain Dry Food - Salmon
http://www.beforegrain.com/pdfs/BG-Cat-Dry.pdf
I realize that salmon may not have been the best choice and if I continue with BG, I'd probably get the chicken next time.
Feline Holistic Select wet food - all flavors
Holistic Pet Food: Cat Food Recipes | Holistic Select®
I've stocked up on these thanks to Petco's clearance sale (they are discontinuing it in stores I believe) in addition to manufacturer's coupons...free 5.5oz can or $.80 13oz big can haha.
The ingredients look pretty good even without the sale.
Spot's Stew wet food - all flavors
http://www.beforegrain.com/pdfs/BG-Cat-Dry.pdf
I've picked up some cans of these to mix in as another source of wet food. Also thanks to coupons.
He has also had in the past month at least a can or more of nutro max cat kitten, blue spa select, petsmart authority, natural planet organics, chicken soup for the cat lover's soul. The idea is to make him unpicky.
Thanks again!