Discussion Starter
•
#1
•
I just brought home a kitten today. Here's the background.
She belonged to the person I take care of horses for. Well she has an old mamma kitty there and she had kittens again. Never could find the nest. Last Friday, my niece and I rode over and took care of the horses and found the kitten. So we got crafty and took a piece of binder twine (Kitten was in the wall of the stall) and the hard end of a whip and got the binder twine looped around the kitten and gently lifted her out of the wall of the stall. (Now's the time I wish had a catch pole!) She was too far down to reach in and get her. :?
So we caught her. I put her in a cage there gave her food/water. Took care of her every day over the weekend. I was waiting for the owner of the place to get home. (She was working, she drives a semi.) She was home today and I asked if I could have her and she said yep.
Which is good cuz I'm the only one that feeds the barn kitties. Her granddaughter is too lazy to do so. Mamma kitty has disappeared. *Shrugs* I don't know where that cat is.
So I got her home. I named her Pixel. She's a youngster, probably 6-8wks old. She's really scared and underweight to. She hisses when I get near the cage.
She's going to be a barn cat here. But my barn cats are fed daily and are in very good health. (Just wanted to point that out...so I don't get jumped on...I know alot of barn cats tend not to get the right care but mine do.) Right now I have her in a good size cage with food/water, soft rug to lay on, and a litter box. If I turned her lose now, she'd be gone in a heart beat. But the way I am with animals I should have her tamed right down in a week. I can pick her up and mess with her. She's just really scared right now and will hiss.
I'm going to clean her up tomorrow. I figured I'd give her the night to settle into her new surroundings.
Going to give the vet a call tomorrow. We have a good vet/client relationship so I should be able to just speak to him about her and get the meds I need for her eyes. Oh and this little girl will be spayed. But not until she's a bit older and alot more healthy!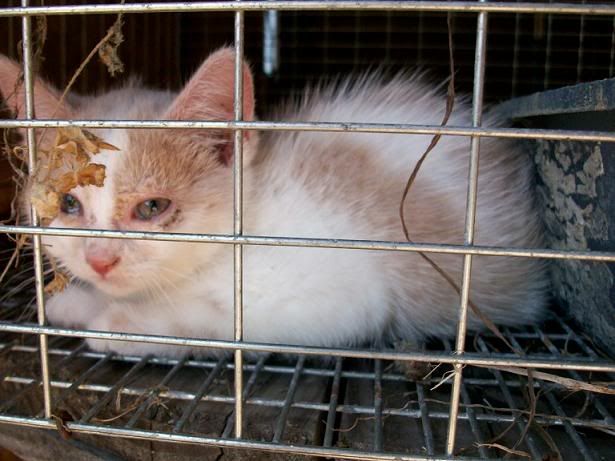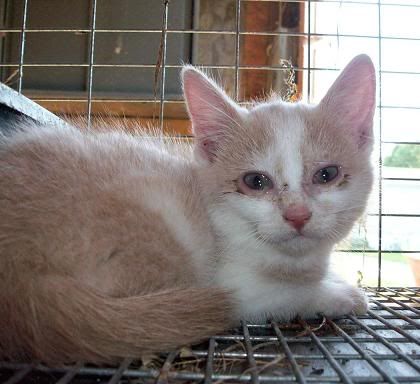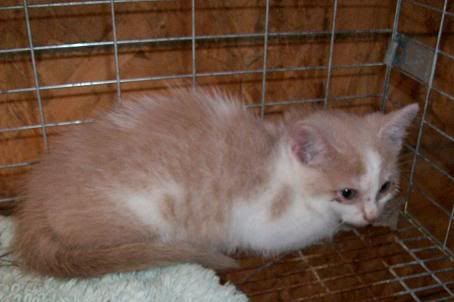 So that's my newest addition. Hopefully we'll get her eyes cleared up, get her weight up, and she'll be a tame, happy, healthy kitty in no time!