Discussion Starter
•
#1
•
Hello everyone!
I am new to this forum, and my name is Devin. I am involved with cat rescue, and have been for over 10 years now. I am 24 years old, and I have 4 children. 3 are rescue cats, and 1 is a 5 month old German Shepherd puppy rescue.
This is my heart child, Tiny One Mewer, or T.O.M. as I call her. She is almost 8 1/2 years, and I rescued her when she was just 6 weeks. She has FHV-1, and they were going to euthanize her. This cat is everything to me, I love her so much, she's my pride and joy. Even people who dislike cats, fall for her. She is so well behaved, she's my little angel. Her FHV is very much under control, I just have to keep her life as stress free as possible, or it will flare.
This is how we sleep each night, my mom took this picture when she came over and I was still asleep because she thought it was so cute.
She is still very playful, even though she is getting up there in age.
A picture of us together. She was also in many of my senior pictures of high school.
Here's Tom, giving me kisses. Her favorite pastime.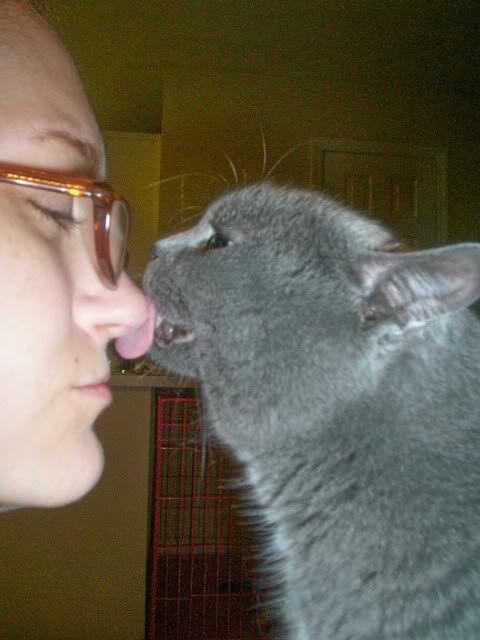 Onto Nico. He's the only boy animal I have, and is definitely the man of the house. He is a CHARACTER. I've never met such a spirited and just plain funny animal in my life. Last year when I was working at a vet clinic before I moved, he came in at only 2 days old. Found, abandoned. Me being the 'cat girl', of course I was picked to raise him. So I took him home, and hand raised him...by the time he was old enough to find a home, I just couldn't part with him. He grabbed my heart with his crazy antics, and louder than life personality. He's also the troublemaker of the family, along with his sister, Bella. (GSD) Here's my boy the first day he was home.
Suckling on his bubba, his second day with me.
How cute is he??
Here he is at about 6 weeks old.
Already showing his attitude. :roll:
And here he is recently!
Getting a drink from his favorite 'water hole'.
Tuckered out.
Last kitty, my girl Shai. I personally busted this kitten along with her sister out of a drug house in Detroit that had been raided. I got a call that they had been trapped in there for 2 1/2 weeks with no food.
I expected to find two dead kittens, but luckily there was enough food in the garbage to sustain them, and the toilet lid was open. I took them, vetted them, and fattened them up a bit. Then they went up for adoption. Shai's sister was super outgoing and was adopted the first day, even though she was solid black and it's harder finding homes for black cats. Shai is very timid, antisocial, and just well...shy. So I took her home to foster her and try to socialize her more. She of course, got attached to me and distrusts everyone else, so I legally adopted her and haven't looked back!
She's very tiny even being full grown now, and has a weird mohawk of long fur down her back?
Then there's Bella, my GSD. I've had her 3 months, and now at 5 she's teething so her ears went back down. They're almost back up now. She's the smartest dog ever, and adores her feline siblings.
This is her 2 months ago.
Here she is now, with her new pink 48" crate!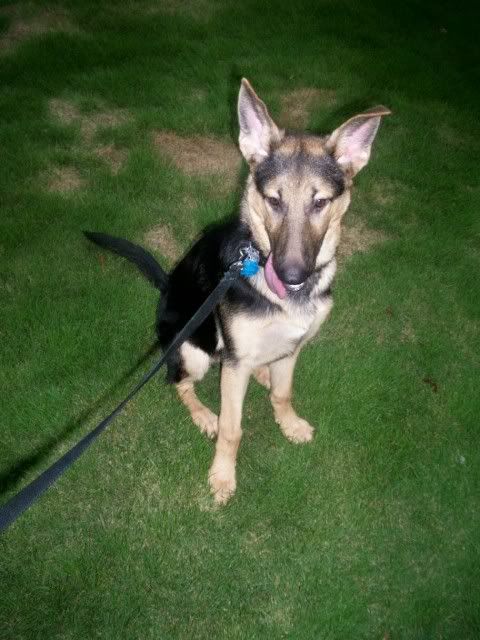 And, that's my family! I hope you enjoyed them!
:luv