Discussion Starter
·
#1
·
Hi there..I may have met a couple of you in the introduce yourself section but now I have a more serious question. I have a one year old Siamese mix male (Nuetered) named Cricket (his birthday is oddly enough TODAY) and will be aquiring a little tabby/calico female in about 3 weeks (as she is only 3 1/2 weeks right now) I think Cricket will be decent, or at least not full on attack her but is there a way I can make this a little more.. easy going? I think an advantage I have is I just moved into this new place a little over a week ago so it is still sort of fresh to Cricket (although in 3 wks it probably wont be) Also the litterbox is upstairs and im worried about the little girl not being able to climb the stairs or even want to go up there to use the litterbox, any suggestions on that? I keep the litterbox upstairs so that my two daughters dont mess in it because they are notorious for doing that. It is a large domed litterbox, do you think I should get a small uncovered one for the new addition for awhile? Any tips or advice will be greatly appreciated for any of my questions..I will leave with a picture of both of them.
Cricket (with one of my daughters)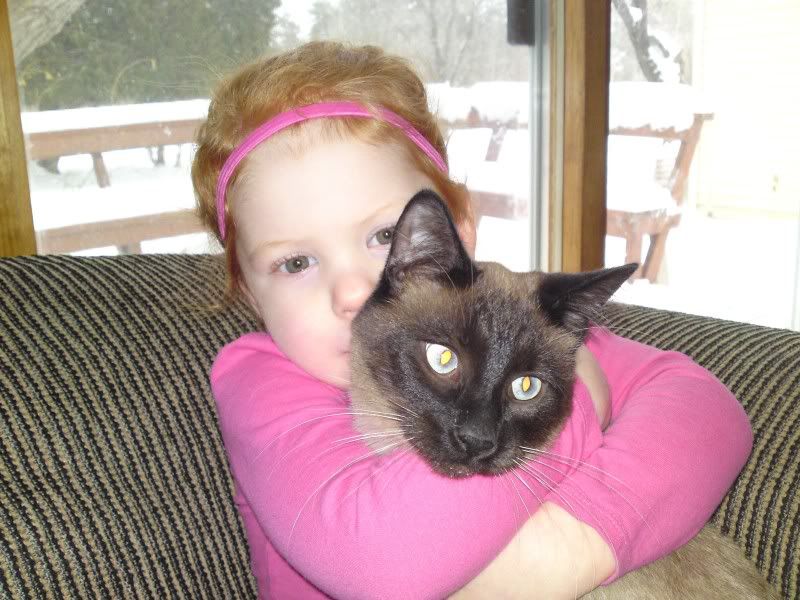 The new kitten who I have already named "Karma"