Discussion Starter
·
#1
·
Hi again everyone.
I am new around here but wanted to show off pics of my little love bug.
I introduced myself but in case you didn't see it, my husband and I adopted a little black kitty from the local shelter about a month ago (black cats do not get adopted here where I live, people here think they are evil). Her backstory is a rough one and we have been working diligently with her to make sure she is happy and healthy (we actually have had to teach her to play and how to play, someday when I can get through writing her backstory without crying, I may share it).
She has become such a love bug and has taken to the both of us remarkably well.
Here she is on the first day we brought her home.
And here is a picture of her enjoying her new found hobby of playing with kitty toys!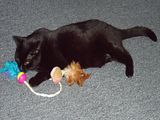 And here she is just a few minutes curled up beside me on her security blanket