Hi everyone! Thanks for clicking to meet my little gang! I hope you can put up with my many pictures and long-winded tendencies long enough to enjoy my kitties. I can't wait to meet all of yours too!
This is big ol' "Silly" Billy. He will be four years old this April and is my furry soul mate. He is one of the most laid back, clumsy cats I've ever met, a lovable guy who bumbles through life as he is NOT an agile kitty. Jumping gracefully is a joke. Balancing is slapstick comedy! He's a real character. And he's been the bright spot in these past few years. I remember the first time I laid eyes on him as a baby and he put his little nose against my lips I thought, "the day you pass is going to be the hardest day of my life". Then he came home and was a hyperactive, destructive nutcase! So we brought home Johnboy.
Johnboy is a sweet, sensitive kitty who goes nuts over fetching toy jacks! It's one of his favorite things. The other is talking. Meow, meow, meow.. meow? Meow! Indeed, he's one deep thinking kitty.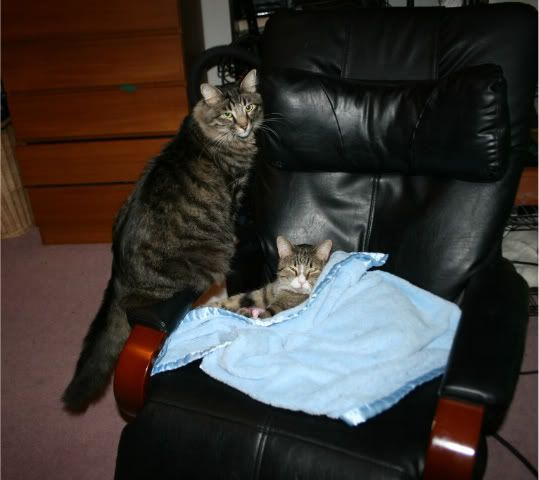 Finally, George and Missy. These guys were strays across the street from where I worked. I freaked when I saw them playing in the street at night, so the following evening my boyfriend and I took a dog crate and tied a rope to the open door, filled it with food and waited for hours. They were TERRIFIED of people and hung from the cage like little monkeys! Missy was especially hissy.. but once she outgrew the hissing, we changed her name. We guesstimate they are a year and a half old.. maybe.
Georgie sure does love people now. Pets are his favorite! If you're sleeping and unable to consciously pet him, he will pet himself against you.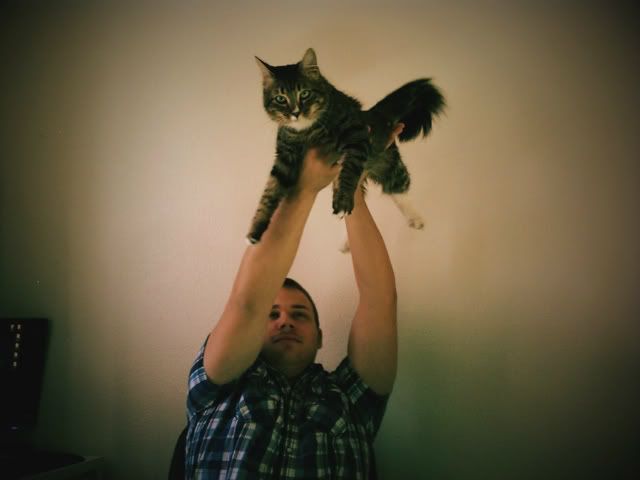 Wheeee! Super kitty! George loves to "fly".
I have the least pictures of Missy because she's either sleeping or running around and bolting from the shot. She's pregnant with her first and ONLY litter of kittens.. and is due today! The first picture was taken just days ago.. I guess that's how pregnant cats sleep? lol