Discussion Starter
•
#1
•
I spent Saturday afternoon at a friend's farm, she was hosting an all-ladies Cocktails in the Country for some of her co-workers and friends, less than a dozen people. We grilled out, chatted and hot-tubbed. She called me that evening as she was completing her walk to tell me she had found 4 kittens near her mailbox. She has farmdogs that were still contained from the CitC event, she needed to release them, but they *are* cat killers.
I drove over to pick them up and found a 5th one in the grass beside the road of her long driveway. We are pretty sure we have all of them, the lone kitten was calling and calling, listening in the direction of the driveway for replies from its' siblings who were too far away to hear or answer. It let me approach and pick it right up.
We felt if there were other kittens, they would have been together or at least the lone kitten I found would be looking towards wherever the other kitten(s) would be. She made a few sweeping searches today to be certain and found no others so we think we got them all.
All five were thin, not bone-y, but not fully fleshed-out, either. There was sniffling and sneezing. We discussed keeping them in a kennel in her barn but she is having a flea-problem, and most worrisome ... she'd seen two five-foot-long snakes mating just the week before. I brought them home, hoping to keep them in the wire dog kennel outside, but this morning proved to be too hot so I kitten-proofed and moved them into my bathroom. They are eating, drinking, eliminating well. I waited until this evening to treat them for fleas, worms and start them on antibiotics. Only two are sneezing and have gunky eyes, one has a bit of the 3rd eyelids showing, but I'm keeping a close eye on all of them. They are alert, active and playing, but they could go downhill fast, so I visit them often to monitor them.
I'll be calling my rescue/adoption place tomorrow and see if I can get them into the program. They're already friendly so they'll just need to get over their colds and s/n. I think I've got four girls and one boy. The orange one is the boy.
All mackerel tabbies with one classic torbie. 2 Torbies, 2 tuxedo Tabbies, 1 red Tabby.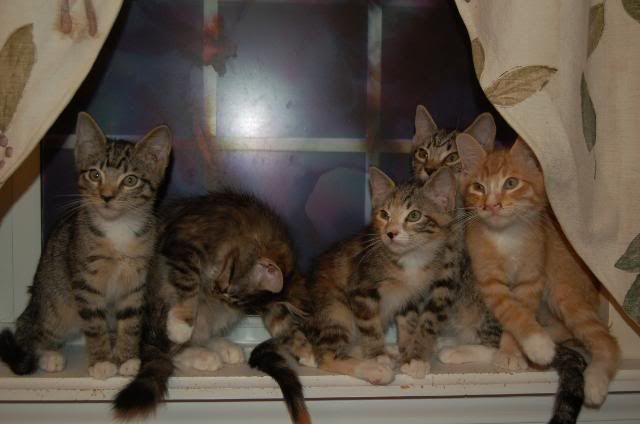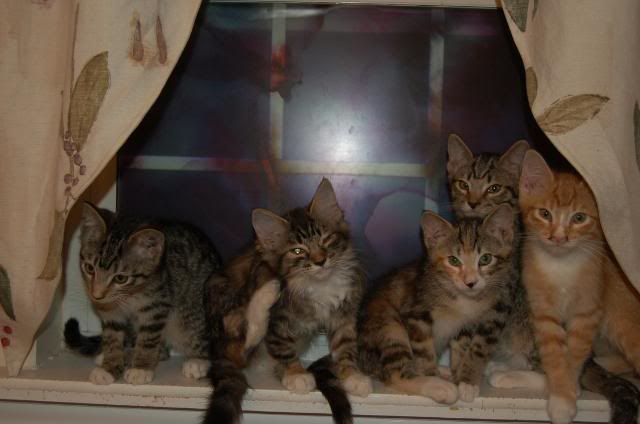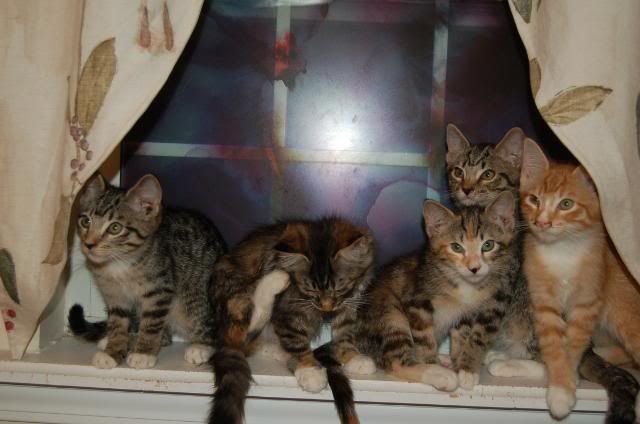 Several of the kittens have looong, pointed faces and profiles, reminding me of the angular heads of modern show Siamese kitties. My pics don't show the difference I see very well.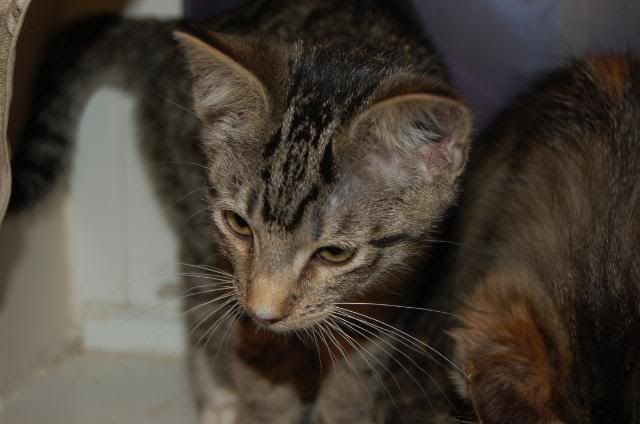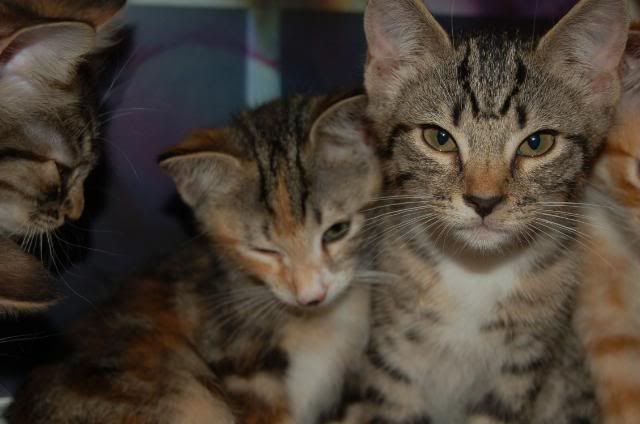 Hand-washing after handling them and exiting the bathroom.