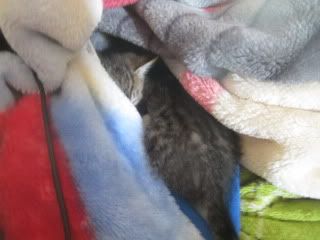 3
I am kitten sitting and HOLY COW I forgot how hard kittens are. My cousins cat Tinkerbell(I posted pic of her before) had tragically died and so a week ago she got a 6 week old kitten. Too young to leave its mom I know but she got it from a friend at work that was going to dump him because he couldnt find a home for him. So she took him. he is a dark tabby. if I didnt have 4 cats I would keep him. he is calm but energetic. When he gets going he dont stop. if I am typing he attacks my fingers and he annoys the crap out of Dice. My ferret loves him though,lol. They chase and play with each other all the time. In the morning the kitten(still nameless) will sit on top of the ferret cage and pounce on Koda when he comes out,lol. then the race is on! It is so cute to watch them. Right now the kitten is sleeping beside me being cute,lol.
here is a pic of him sleeping i just took.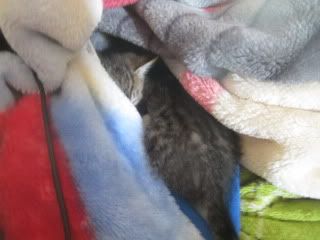 This was Tinkerbell....My cousin has a thing for tabbys.