Discussion Starter
•
#1
•
Poor kitten has fleas! I think she might have had them before we got her or perhaps I brought them inside on my socks or something from waslking the dogs. The dogs are both treated but "kitten" is to young. I asked the vet if I could give her a bath and they said it would be ok to use a hypo. baby shampoo. Sooooo yesterday kitten got her first bath and of course I had my fiance' take pictures of the bath. She didn't like it much but she was good for the blow dryer. I never thought I'd ever blow dry a cat :? but the vet said if I gave her a bath I had to so she wouldn't get chilled.
The pictures are in reverse order for some reason.... and now I am to lazy to fix it lol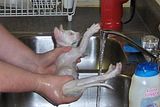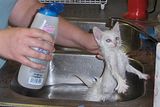 Poor kitty
At least the fleas are gone and after we made up we are all still friends. I'm surprised "Kitten" likes me at all. First took her to the vet and she had to stay most of the day, then I gave her a bath, and I'm the one who gives her her meds. She must be a very sweet kitty !