Friday I ended up taking Kitty to the vet as she was heaving Friday AM - I haven't had a cat for years so that was scary. I thought ok it's because she is eating her kitty grass so anyway Friday afternoon she wakes up from her nap and the same thing occurs. So I got her over to the vets that afternoon for a 5:20 appt. We also yesterday Saturday found some coughed up hairballs.
Her vet visit on Friday was uneventful. He said her tummy felt normal and that I should take her grass away which I did (I guess he wants to rule out that the grass might be the cause for the upset tummy). But he gave me two cans of RC intestinal health formula (high fiber) and told me to feed that in the evening and next morning. He said that if she starts to vomit again to bring her back for x-ray. Well she didn't eat too much of it but did eat some of her dry food (Diamond Naturals). She self feeds using about a 1/2 cup full out of her slim ball. So Saturday alll day no issues till Saturday evening when she started that awful heaving and let out a loud meow. She hacked up a piece of dental floss! This cat likes to get into everything - I told my dad not to throw floss in his waste basket of his room and unfortunately she must of got a hold of it. I showed him the hacked up piece and he got scared and removed the waste basket from his room. Now kitty has eaten string before from a toy and fortunately passed it and has been fine since. We also like I said found a few wet hacked up hairballs. But these last few times nothing comes up except the water she just drank. She spent the night on my bed cuddled next to me and was awful thirsty this AM and had a big drink and I heard her eat a few kibble well the heaving started again. I called the vet and am going to take her in today. She also must be constipated as she has not passed any stool since Friday. I also gave her some Laxatone yesterday but that hasn't done anything. She is a medium-length Maine **** Mix with a big bushy tail therefore I think the reason for the hairball hacks.
Right now she is sleeping on her post and it's 7:00 AM and I'm waiting for the vet to open at 9:00 AM. I left a message at 6:00 AM. Can you tell how worried I am?? I love my kitty. She is the friendliest most affectionate almost 8-month old kitty and couldn't bear anything to happen to her.
Please send vibes that all goes well today!
Thank you for reading!!!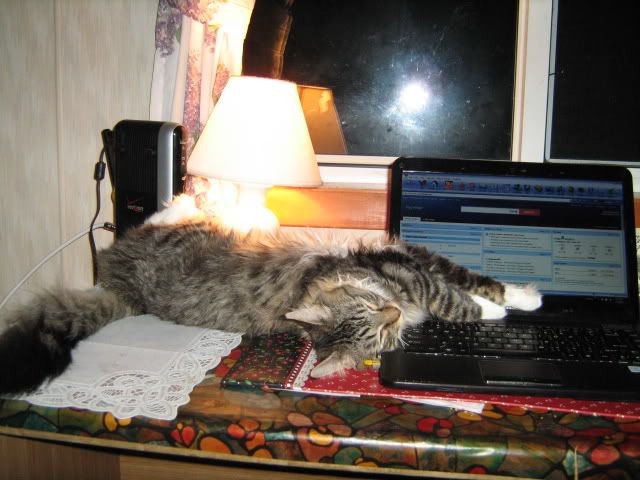 Kitty loves being near me and my Mom when we are on the computer.