Discussion Starter
•
#1
•
Hello. This will be a long story but, i live in a small place, it's a two floor building, i opened a store in the first floor and i live on the second floor. As i said in the "
Introduce Yourself
" section, i was a dog lover, and disliked cats because i have a bad experience with a cat when i was a kid.
But then about some months ago, i took a stray female cat,
Kitty
(I'm not sure if she is a calico cat). Originally, she like to come to my place (sometimes just passing by), then i started giving her some food, in the next few weeks i saw her being chased by a male tabby cat (probably fighting, because i saw her fur flies when she run and hide in my place), i repelled the tabby cat when they enter my place.
Since then, she like to stay in my place, on a rare occasion, she stays outdoor for an entire day and return on the next day. I'm quite surprised because she never pee or poop in my place, but always go outside, she meows and strokes the door at night whenever she want to go outside to pee or poop and return whenever she is done. She also never scratch my furniture, instead, she scratch on some unused wooden materials in the storage room. She is like a trained cat. My vet said, she is
"a cat who knows how to return a favor
".
Around march this year, her behavior slowly began to change, she meows a lot and seeks my attention whenever she meet me, she always headbutting and rubbing her body on my feet. I thought she became affectionate, but i realize her belly has become bigger and bigger each weeks. So i seek the internet to confirm her situation, and my guess was right, those are the symptoms of a pregnant cat. When her belly has become so big, she became more restless and seek a dark places in the corner of a room. So i prepared a cardboard box, filled it with newspapers and place it in the corner of a room. In the next day (June 15, 2012), she gave birth to four kittens.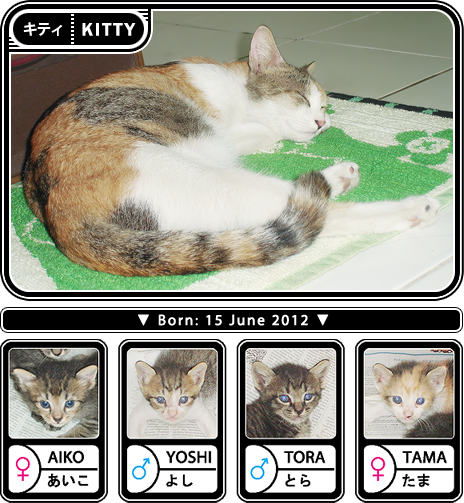 ​
I leave her and her kittens in the nesting box while providing dry foods and water near there, because the vet said, most stray cats are perfectly able to take care of everything, not only that, my "bad experience with a cat" also makes me very reluctant to approach her and her kittens (my dog shows her teeth in an aggressive stance when i try to approach her newborn puppies). So i choose not to mess with animal protective instinct, i only check occasionally for the first week. I bring her and her kittens to the vet on the third week to make sure everything is alright.
By the time of this writings, the kittens are almost 2 months old. I spend most of my days with them, a new experience for me (though their behavior is starting to get out of control, but their expressions are effective to ease the stress).
For more photos:
http://photobucket.com/kittypride