Discussion Starter
·
#1
·
We have 3 cats, 3 litter boxes. When I clean them I see the normal clumping that urine causes and then I also see a soggy patch that breaks easily with movement and scatters around the rest of the box, falls through the holes. I suspect one cat is making this strange pee.
Does anyone know what this could be? Or how to fix it?
We use clumping clay litter and it is cleaned regularly.
We feed wet food in the morning and free feed dry.
Our cats:
Maple: mostly indoor but can go through the doggy door and lounge outside if she wants, has a limp from a dog attack, friendly and pretty adventurous. 6 years old. Tortoiseshell
Nala: loves to hunt and spends a lot of time outside, good appetite and most recent addition. She lived outside until my friend found her and then had kittens so I got all of that, and now she is fixed. Very playful, very friendly. Maybe around 4 years old. DLH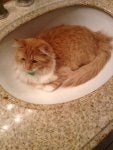 Akira: very rarely goes outside, never goes far. Huge eyes, usually in my brother's room, door likely closed most of the time. Likes wet food. Doesn't know how to act like a cat. Overweight somewhat. Almost 2 years old. DSH