Discussion Starter
·
#1
·
So, she is on the 59th day, for the next week she can have the kitties anytime! Last Friday I prepared the room I would like her to accept as maternity room. It is a basement room (I'm keeping lights always on), a bit colder than the rest of the house. It has around 6 square meters. Only one entrance and a ventilation window. It was an empty room, where we were storing things since the move.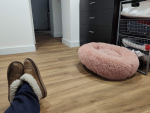 So, NW corner is water, N wall a scratcher with boxes she never showed interest in (but babies may like), NE corner a litterbox, E wall is the door, S wall a bed she never showed interest in (but the babies may like) and the food (dry and wet separate plates), SW and W wall a mattress with old towels and 2 boxes facing the wall.
I put bad quality sand on the regular litterbox and the good quality sand on this litterbox and she has only been using this one.
I stopped feeding her in the living room (that doubles with dinning room) and only feed her here and she seems OK with this.
She drinks from this water but she also drinks from the bowl on the ground floor (above the basement and were we spend most of our awake time).
She keeps sleeping in the living room.
She only spends time in this room if I'm there with her. Otherwise she'll be where we are. The rest of the basement is used as play room, office and wine cellar. It's quite calm.
Am I missing anything? Is there a way to ensure she will want to have the kitties there? Although she is always trying to enter cabinets and drawers, she doesn't seem to be looking for a nest, like if either she already decided and is not worried or she is not there yet...
Should I get a way to block the door so that kitties can't get out (but the mom can) while they are little?
Should I warm the room with a heater? It is now probably around 20ºC/22ºC.
Thank you for looking! I can't wait for the birthday! 😸😺