Discussion Starter
•
#1
•
I would like to start by giving a little background info on Junior. He's very special to me. My mom and I have had him for about 7 or 8 years. When he was about 3 he was hit by a car and both of his front legs were broken. Unfortunately, we could not afford to take him to the vet so he could get proper care and treatment. However, by some crazy miracle, Junior made it through this terrible tragedy. He heeled himself, with no infections or visible scars (mind you, his legs were pretty nasty after it happened). He is crippled and I call him my Miracle Kitty. I think a lot of it had to do with the fact that every day I would hang out with him outside (he hates being indoors). And the fact that he knew I cared so much got him through the worst time in his life. And now he is very healthy and happy (and fat). He stays with my mom, because when I moved out I thought he might run away if I brought him with me. He's happy there (she has about ten other cats outside).
So, without further ado... Here is my Junior Kitty: (Sorry they are not in color. I like the Sepia.
)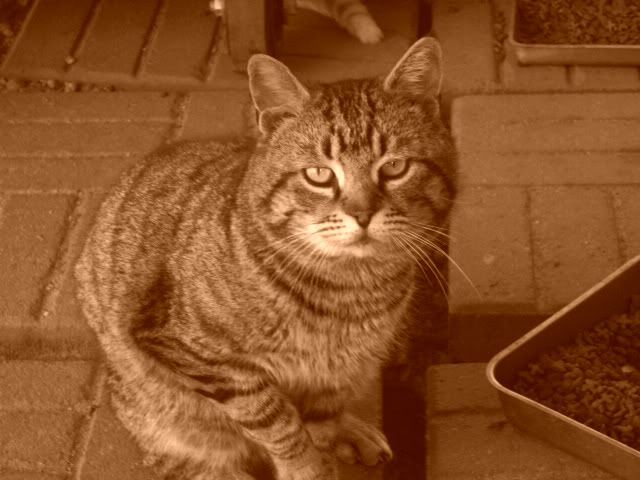 And now for Cyber. He is about 3 months old. My boyfriend and I took him inside about a month or so ago. He is so well behaved. And took to us almost immediately.
He loves to sleep on our laptop (mostly because it's warm). That's where his name came from. We came home one day and found that he had somehow opened over 300 Firefox tabs! I thought it was hilarious.
So, here he is, my little ball of fluff, Cyber: