Discussion Starter
•
#1
•
Hello! I am new to the forum, and of course the first thing to do is introduce my fabulous felines!
First up: Martha!
I adopted her in Aug '06 from a rescue I volunteered with. I knew her for about 6 months prior and watched as one potential adopter after another would look at her, and then continue their search. The few that showed interest, quickly decided she wasn't worth it, when she would hiss/growl or bite/scratch. No one seemed to realize that her reaction was due to the stress of being in a cage and having strangers constantly try to touch her!
Due to the stress, it took a few months for her to warm up to me, and by the time I got her to willingly approach me for petting, and purr...I knew I was going to adopt her. At first, I was denied due to having roommates. "What if they leave a door open?" "She isn't the most social cat, what if they don't want her there?". Understandable questions, but it didn't change the fact I was deeply upset that I was denied by a rescue I volunteered with. So, I fought their decision for about a month, and they finally decided to give it a try.
Now, they tell everyone how Martha ''died and went to heaven'' when I adopted her. Funny how things change! She likes the roommates, and they like her. She's kept in the master bedroom if I'm not home, so there is no risk of doors being left open and her getting loose.
Last but not least: Jethro!
We never planned on getting a 2nd cat. We tried once with another ''hard to adopt'' cat at the rescue, but they just refused to get along and they were just completely unhappy in the same household. A friend of mine adopted that cat, so there is still a happy ending for her. Anyways, Martha has never been very social with other cats. Either she's purposely mean, or she tries but is just too rough...the result is the same: She's not good at making kitty friends.
So, when a handsome cat decided to call our patio his "home", of course her first reaction was to try to attack him through the sliding glass door.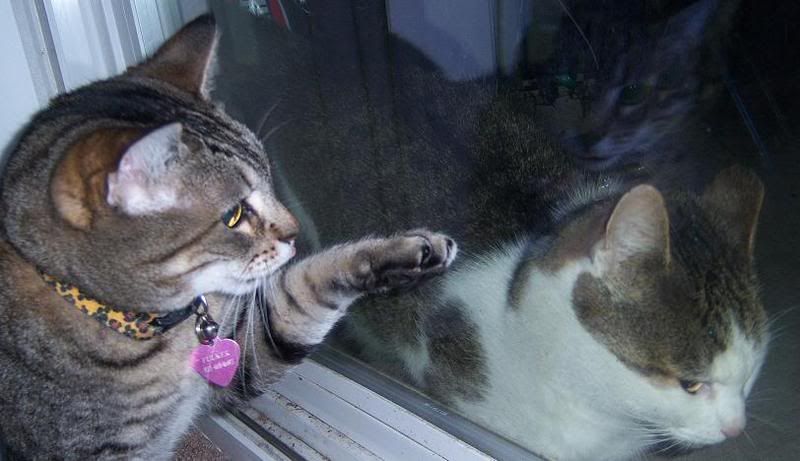 Over time, she would run to the back door and search for him on a daily basis, and they would sit and fall asleep watching each other, on opposite sides of the door. It seemed that things were going pretty well! No more attempts to attack him. He showed up around Aug '08 and over the next few months, he slept on the patio and disappeared during the day to do whatever it was he did. I searched many times for a possible owner, but at the same time I thought that he is semi-feral and may not be owned. I couldn't approach him, and at first, he would dart off into the wooded area if he heard a sound or saw a movement. He was a very jumpy cat.
At first, my husband told me "We are NOT keeping him" when I told him that I gave the cat a name. So, I said that I would bring him in, socialize him and adopt him out through the rescue. After a while, my husband started saying "Well, it would be nice for Martha to have a friend" and "He's a very handsome cat. I wouldn't mind if he stuck around." So, I told him that he was speaking dangerous words. Of course I was going to keep him if I could get him indoors.
January '09, I was able to pet him, and he even came inside and slept next to my legs if I sat by the back door (Martha would be closed in the bedroom, due to the back door being open. Didn't want her to get out). So, after time, I was able to sneak the door closed, and transport him into our bathroom via a carrier. He was very unhappy with that trickery, but in the next day or two, he forgave me for it. I got him health checked (worms, overall health, & combo test) and once he was deemed healthy, he got to come out of the bathroom and get the master bedroom with Martha. He spent quite some time being a "bed monster". Only coming out while we were asleep and for food time. After a while, he would come out and cuddle & play, but only when my husband was at work. He was convinced my husband was the devil.
Now, he'll lay on the bed with us and he's more of a cat, less of a bed monster. He still turns completely feral if he gets stressed out, but given a life of leisure, he's quite a nice cat. Still very jumpy, though. He still lays on the opposite side of me than my husband is sitting, but at least he's not completely terrified of him anymore.
It will NOT be fun when we drive from WA to TX soon, because he will be so stressed out and just the idea of trying to catch him in a carrier? Not easy at all. I'm lucky I got him into the vet for a health check and again for microchipping. The clinic likes to remind me that he hasn't had his Rabies shot, but they don't pester me about it because they know how Jethro is. They always want to sedate him!
Both are ''guessimated'' to be 5 years old now. I love my cats, even if they do have their little ''quirks'' that made them less desirable to someone else.