Well, hello people of catforum! I am glad to be joining this community. All the times I've been wondering about cats and where I could find people who also like cats. This site just slipped my mind somehow. Here is some info about me, and my cat. Then, afterwards, a story of my first experience with cats.
Name: Sam
Age: 19
Gender: Male
Location: Boston, Massachusetts.
Interests: Cats, Dogs, Videogames, Computers, Football, Travel, Swimming.
Dislikes: Animal Haters/Abusers/Neglecters.
My cat
Name: Aiden
Age: 11months
Breed: I honestly have no clue, I need your help to find out!
Gender: Male
Interests: Food, Snuggling, Sleeping on humans.
Dislikes: Loneliness, The Outside, Dogs.
Now that I'm typing this I have some funny stories to share in the 8 months I've owned my cat, and I have a few pics to share
PIC 1 :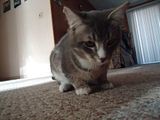 PIC 2 :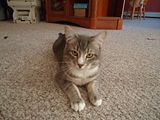 So, here's my first experience with cats:
When I was around 3 years old I lived in Somerville, Massachusetts in a small little house near ESCS(East Somerville Community School). It was around 10:30PM when I woke up to the sound of a bath being used, I thought nothing of it. A few minutes later my dad came in with this little black cat that was wrapped in a towel(his head peaking out) and he let me hold him. Little did I know, that at this moment, this cat would become Smokey, my best friend =] I had fun with him that night, I slept on the top bunk of a bunk bed so he just sat up there with me doing circles and crawling on my lap. The more he go accustomed to me the more he would sleep on my head, jump on my head when I wasn't sleeping, etc. I had that bundle of joy until I was 8 years old. One day my dad let him outside, which was kind of normal, and he never came back. I cried for so long, even now sometimes I cry thinking about how much I loved that little cat and how much it broke my heart to lose him.
Now. On a happier note to my new cat. I got Aiden around late Sept last year. He was very shy when we went to see him but his parents and sister loved the attention we brought to them. So when we decided we wanted him, and we got him for free, we brought him outside. I was holding him and as soon as we go outside he started to wail and cry loudly. Apparently he had never gone outside before. Once he was in the car he curled up in a ball under the seat, we finally got home and for the first few days he barely ate and would hide under the couches, tables, anything he could find. He slowly warmed up to my family, mainly me. Now he's just like Smokey, but Aiden is a slightly less cuddly cat, he loves when I scratch his neck and chest. And BOY, does he purrrrrrrrrrrrrrrrrrrrrrrrrrrrr. I swear at night it sounds like a computer fan.
That's all for now guys, hope to get some good responses =]