Discussion Starter
·
#1
·
Freddie passed away in her sleep on March 8th, a month after she was born. In the days before her passing she would walk to me when I called, search out food and her kidney swelling had gone down. But when I woke up that morning and found her, it was freezing in the room because I accidentally fell asleep without closing the window. The medication I take knocked me out that evening.. so I also missed her feeding time. I worry this had something to do with it because she had trouble regulating her body temperature. Everyone I tell this to insists I'm stupid for going over the what-ifs, as she had so many odds against her: hydrocephalus, FeLV+, etc. But I'm sure plenty of you here understand my struggling with the whole "what if". I knew she would pass at some point. But, I don't know. I'm just so disturbed by her death for some reason. I'm not sure why. But I buried her with a letter inside of her baby bottle.
I've known and cared for so many cats and with confidence I can say this was the best intentioned, sweet soul to have ever graced my life. I am just so sorry she was not able to experience even more of the love and affection she deserved. My boyfriend and I buried her in a lovely spot in front of our new rental house on his parents' property where she was never supposed to be disturbed. But now they tell me they have irrigation once a month.. so I will have to find another place for her or have her cremated. Not looking forward to this.
I love you, baby Freddie. You were most definitely the sunshine in my day.
Last photo of her.. after lunch time on her heating pad, snuggling in for a cuddle. Oh my, how I miss her and her kitten smell.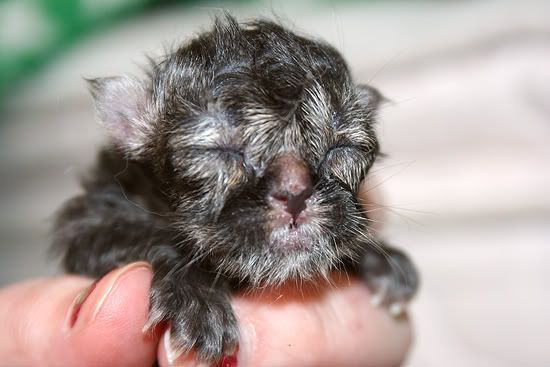 Newborn Freddie. :sad2