Discussion Starter
•
#1
•
Meet George!!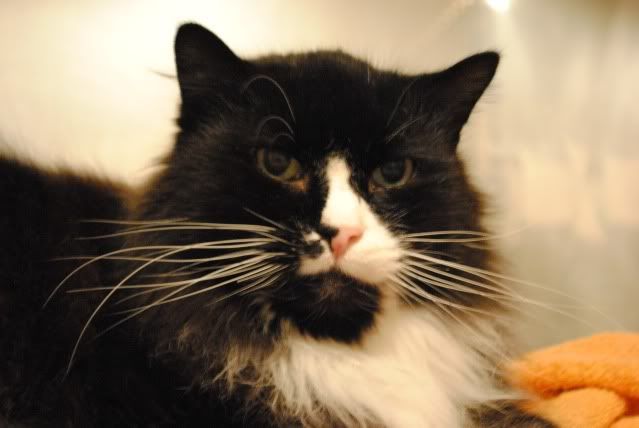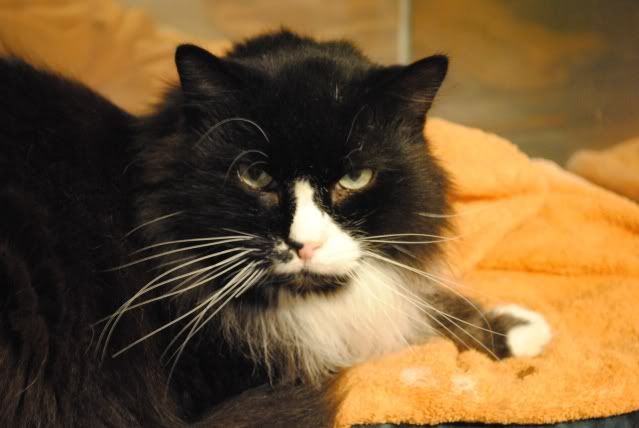 I volunteer at a cat shelter in my town. The cats go to a "transition shelter" (where I volunteer) until they are healthy enough or social enough (whichever they need) to go up to the adoption center. George has been at the transition shelter maybe a month now. The first time I met him he was very hissy, hissed when you approached the cage and opened it, when offered a hand he didn't move to it or sniff at it. We have a plastic dummy hand (what they use to test food guarding in dogs) so I grabbed that to see what he'd do if I pet him with it. I pet him on the back, from shoulders to tail and he seemed to like it a lot, pressed into the hand, started to purr. Then I used my hand and he was great, loved the petting. I go twice a week and he has been great each time. He continues to hiss when you first open the cage but once you pet him he realized he really likes human touch and is fine for the rest of your visit. He even meows for attention when I stop paying attention to him.
Each cat has a card where you can write notes about the cat's health and behavior during your visit. every time I go there is a new note about George, all of them along the lines of "George wouldn't stop hissing, he seems very upset", "George won't let me touch him", "I couldn't clean George's cage, had to get out the heavy duty gloves and wrestle him out of the cage". Last week the note said "I can't take George anymore!". His cage was all discombobulated, apparently the person tried to remove the towel got swatted at one too many times and gave up leaving a nasty cage with the towels all in a bunch. there was also a huge note about how one volunteer spent their whole visit slowly getting to the point where they could touch George. So I pet him a few times and decided to give it a try. I pulled the towel a bit (he was on it) and then petted, then pulled. He did hiss so I stopped and closed the door and asked for my friend Haley's help (we go together every week). I got the plastic hand (in case he redirected) and she got one heavy duty glove. When I went to open the cage he swatted at me but he left me alone the second time. I started petting him with the plastic hand which he loved and Haley tried to pull the towel which he refused to get off of. So she gently pushed him off while I continued the petting and he didn't care one little bit, he was just happy with the petting. We cleaned the cage easily while petting with the hand.
This week I was at college orientation so I missed my visit. I asked Haley how George was, she said he was good and let her pet him just fine but he had another note saying "George NAILED me". I just don't understand...what are these people doing to make George so angry? He has always let me pet him with ZERO problems, the only time he gets upset is when you try to change his towel (you can change food, water and litter without problems) and that was easily handled by petting him the whole time. I am starting to worry he's never going to be put up for adoption at this rate, I'm also getting very attached to him. The only thing I can think of is that they are trying to pet his face. most cats do that rub your hand with their face thing but George does not and I don't think he'd accept being touched on the face, but I can't believe all these people have ignored the fact that he never tries to do that and have forced themselves into his face.
I just wanted to share George with you, as I love him and feel bad for him since people just don't seem to understand the poor boy.