Discussion Starter
•
#1
•
(Mods: Please move this to appropriate area, since it wasnt directly to do with cats, but it is about something for the cats I put it here because I just wasnt sure).
Ok so, I decided to see what would happen if I save up the little remainders from 2 feliway bottles and put them into one.
I left them like this for a while: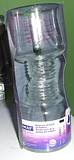 Let it all drain into the one (after this photo I improved the method, I manually drilled a little hole into the bottom rim of the bottle I was not going to keep). and inserted the stick back into the "good" bottle. Put the lid on and lef it be.
Looking at it a good week later... at first I was bummed to see that the liquid level was less. But then I thought to undo the lid and have a look, the stick absorbed it again... so now the stick looks like it does on a brand new one! So, I dont know if its worth it for all of you out there, but if over time you can make a "new" one out of the little remainders that wont absorb... why the heck not right?
I just wanted to share my findings with you all in case you wanted to save a bit of money over time
(mine all dont expire until 2017 so ive got lots of time to use up my "remainders" bottle once its full again)