Discussion Starter
•
#1
•
These are my babies.
Mocha is 7-8 year old brown tabby. I found Mocha, heavy with kittens, wandering lost outside my dorm room my freshman year in college. I brought her upstairs and several days later she gave birth to four kittens in my closet. I found homes for all the babies and kept momma. I named her Mocha, because I had gone downstairs that night, looking for a sweet treat, and came back with a cat. She is the sweetest cat I have ever had. She always has to be in someones lap. She has the prettiest green eyes you've ever seen too.
This is Kobie. He is also somewhere between 6-8 years old. I was driving to work one morning and saw this cat get hit by a car. I stopped and picked him and took him to work with me (I worked for a vet). He was such a charmer, I didn't hesitate to pay for the surgery to fix his broken leg and pelvis. He has turned out to be the most expensive pet I've ever owned. Disaster seems to follow him wherever he goes. But he is my little lover, and I wouldn't trade him for the world! His main problem is he is always trying to get outside, and he will go to great lengths to get out! I don't want him outside because bad things happen to outdoor cats (I'm mean he has already been hit by a car once, lets not tempt fate) Any advice on deturing this behavior is greatly appreciated.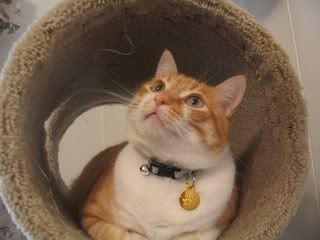 This is Thurston. He is technically my brothers cat, but we live together so he is part of the herd. Thurston came from a rescue group. He had been surrendered after his owners stepped on him, broke his leg, then didn't want to pay to fix it. He is about Three now and HUGE. This is the biggest cat I have ever seen. He's not fat, just BIG and he has a big personality to match. He can be a snuggle bug when he wants to be, but mostly he's a terror. Very handsome though. And my brother thinks he can do no wrong, so, he gets away with murder.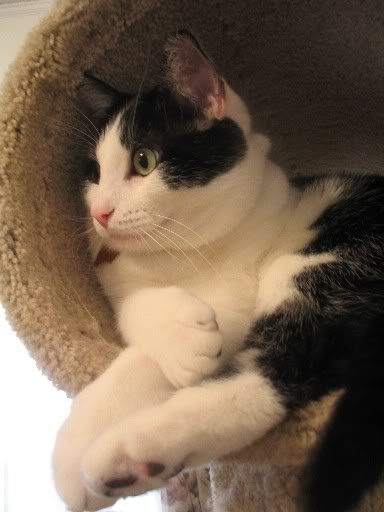 My "herd" was reduced by two this past year. I lost Tyler in January 2006 to Lymphoma. He was only five years old. I miss him very much.
I lost my 20 year old cat Puzzles the day after Christmas this year. Puzzles was a birthday present from my parents on my fifth birthday. She raised me, and I miss her very much. The pain of her loss is still fresh.