Discussion Starter
•
#1
•
I've posted a bio of these two in the intro thread, but no pics there.
So, here goes. Buddy is over a year, probably close to two. His name reflect his personality. He follows me every where. He was born in a high kill shelter and brought to the northern Virgina area through a rescue agency. He contracted an eye infection in the shelter and lost an eye to it. I adopted him six months ago. He is happy and healthy these days and the lack of an eye hasn't slowed him down in the least.
Sassy lived in a feral colony. She had been trapped, fixed and released (judging by her clipped ear). However, she kept wondering into a grocery store in Washington DC, where the rescue group I adopted her from found and caught her. She escaped from one foster home before being placed with a foster who worked with ferals.. Buddy was her foster-brother.
I was in the process of adopting Buddy after my room mate moved out with her three year old cat. Pokey, my lifelong love and companion was still alive at this point. While I was in college, he and I lived with my mom and her two cats. And then there was my roommate's cat. He hadn't been an only cat for a while and I thought it was best that he have a companion. He had health issues and I had to put him down with CRF mid-way through the adoption of Buddy. The first time I meet Buddy, he was brought here to see how he would interact with Pokey.
Pokey's health took a turn for the worse and I made the decision to put him down, but I decided to adopt Buddy anyway. And then I meet his foster sister, Sassy. For a cat who lived most of her life in a feral colony, she had come a long way. I loved her immediately. And with a lot of love and patience, she's come even further, hopefully with more to come. She is the sweetheart, do-no-wrong cat, compared to her "get into everything" brother. I haven't had them 6 months and she is already becoming a lap cat that begs to be picked up.
Sassy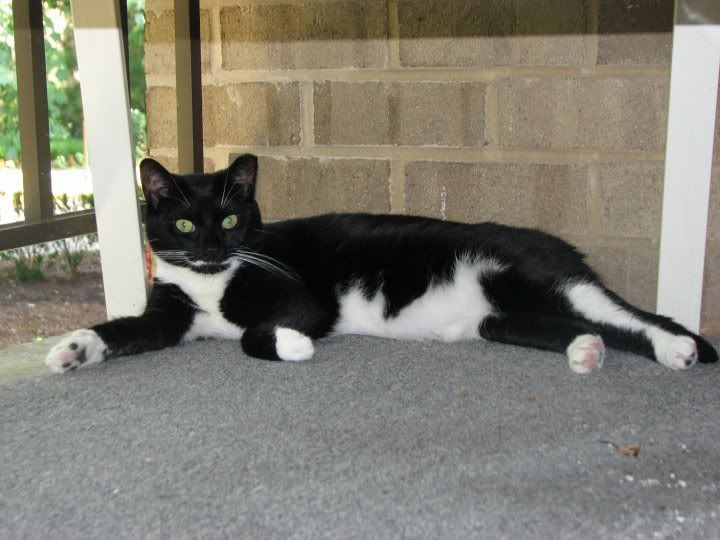 They are so different, but they love each other. And they are the loves of my life.