Discussion Starter
•
#1
•
Firstly, I never cease to be apprehensive of posting my pictures on these public forums because of image theft (mostly just the "guests" that visit the site).
So please,
leave all of my photos here
.
Onto my cats, I'll start with Kitty (yes, that's his name LOL). His name was the aftermath of my not being able to fit him with a name, so I just started calling him 'Kitty'. I got him from a friend of mine because her cat had one of those "oops" litters (the cat is now spayed), so I've had him since he was a wee bugger, and he's about 6 or 7 years old...(misplaced his vet papers ¬_¬). He's strictly inside, and I hardly take him outside anymore. Then recently we adopted a new kitten, so these pictures are before the adoption
Lets see if I can make this witty.
We wake up in the morning,
First we have a morning bath..
Then after drying we'll go outside for a bit..
Sniff around and I'll notice Kitty has an almost complete outline of a heart on his side..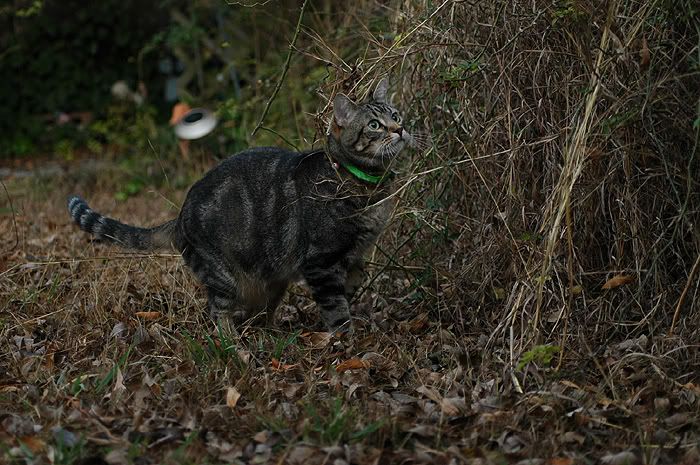 And when we get back inside we'll play where we're not suppose to play..(this being inside my dresser drawers; he was caught red.. pawed?)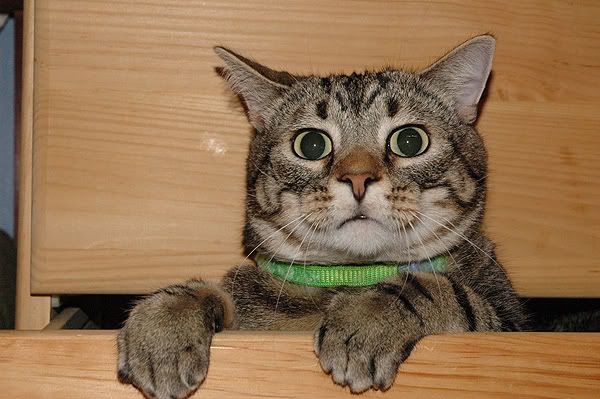 Then to end everything, watch out the window a bit and ultimately fall asleep..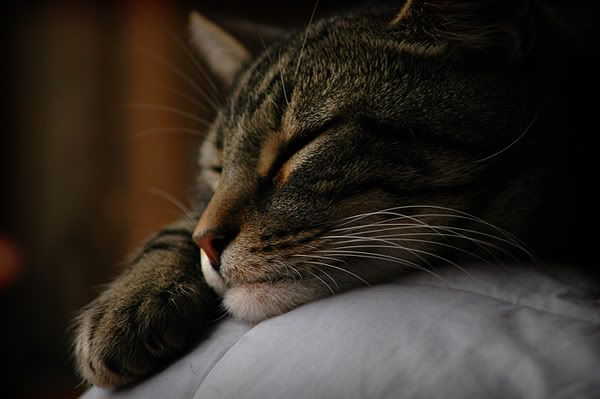 And now the newest addition, Sebastian (or just Bastian for short). The name came to mind when I saw him at the Society, he looked so sad; and when he picked him up to take him home he seemed rather happy to get out of there; and it's greek for 'adored'. He's 3 months and 8 days today, and about 3 pounds (he was 2 pounds when we got him, but since he's been here he's begun to put on the weight). I don't know what breed he is, on his papers it just says 'domestic medium hair', but when looking at him and comparing him to breeds, he looks (and has the personality) very much of a Ragdoll; but won't know until he's at least 2 years old and has his full coat.
But after about 3 days with us, he developed a cold which ultimately passed itself onto Kitty. Sebastian is doing better, he's still sneezing and coughing occasionally, but he's eating, drinking, litterbox-ing, everything really just fine. But his shots are due or expire on the 24th, so we'll be taking him to the Humane society's clinic so he can get looked at and re-vaccinated.
Kitty went to the vet yesterday and he had pretty badly inflamed gums and a fever of 103 (I was told he had the virus that creates ulcers in cats mouths, so his mouth smells pretty bad. think roadkill). He was given a shot of steroids to bring down the inflammation and a shot of antibiotics, and he has to take liquid medication twice a day. His 3rd dose was this morning about 7-8am, and already he's looking and probably feeling a lot better. He will also be taken to the Humane society clinic to get his vaccinations; and until both of them are healthy again, Kitty and Sebastian are pretty much seperated. But now onto Sebastian's pictures XD
(these are from his first 2/3 days here)
His first picture, all of my friends wanted to see him so this was taken with my webcam
(but my lap is defiantly one of his favorite spots to lay, second would have to be my keyboard...)
He sleeps with me most of the time.. oh I can't wait until he's a big fluffy boy sleeping with me ♥ (but I'll enjoy him as a kitten for sure, it's great having a baby again :wink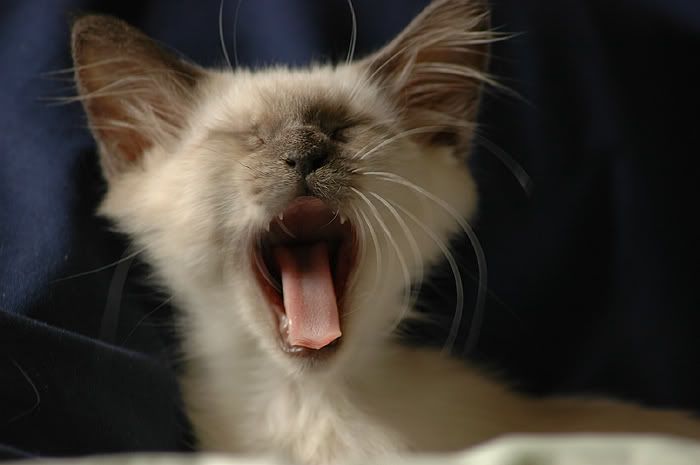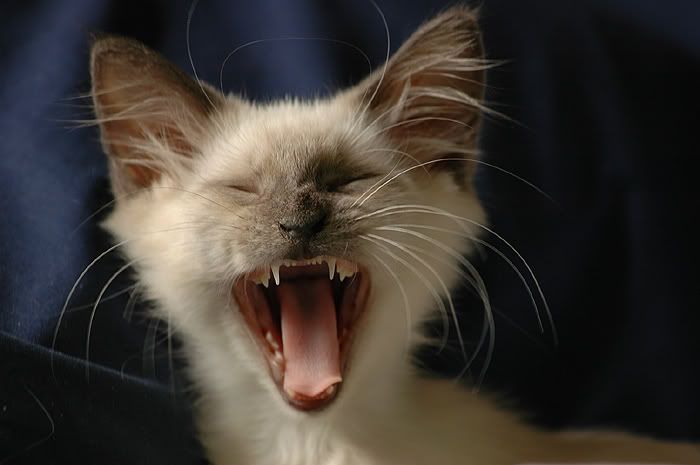 Yaawwn~
And another one of his favorite spots; I made him this fleece bed to sleep on, this was taken when he was a little sick (he had a bit of diarrhea, but it cleared up relatively quickly)
Your typical photography shot, just because I absolutely adore those blue eyes of his ♥ (crapshot, my room is horrible for natural-light photos sometimes)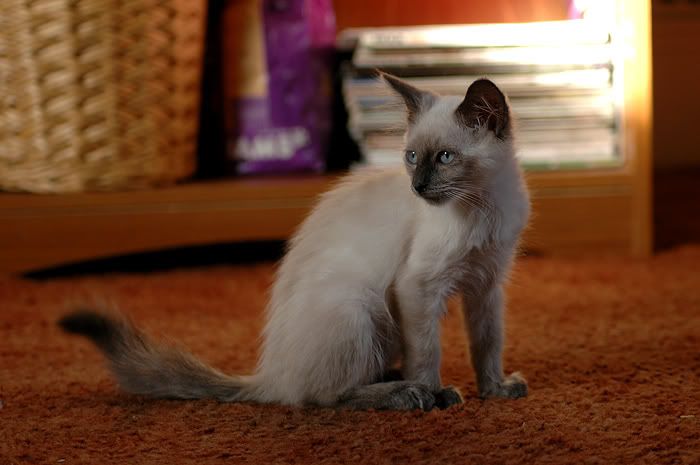 And one from the 13th, LOL moving on!
For the outside cats, we've had 3 of them since they were kittens (being Pepper, Stacy and Larry), and the other one was given to us (Venus). So I have no clue how old they are.
I'll start with Pepper, he's the boss around here; or rather the King. He's my favorite, and a favorite of my fanbase. Because I can usually make him look utterly silly. An example being these two shots: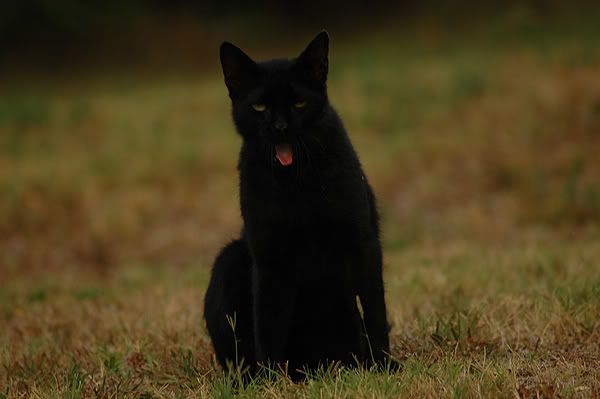 See? No jaw action!
It's the Grudge all over again! @
[email protected]
;
But then he has his opinions, like all cats.....
(that's what he thinks of my photography x_x)
Next is Stacy, which I believe is one of Peppers sisters' who's stayed with us all these years. She's the sweet and shy one and will generally follow you around like a puppy and rub against your leg until you pay attention to her.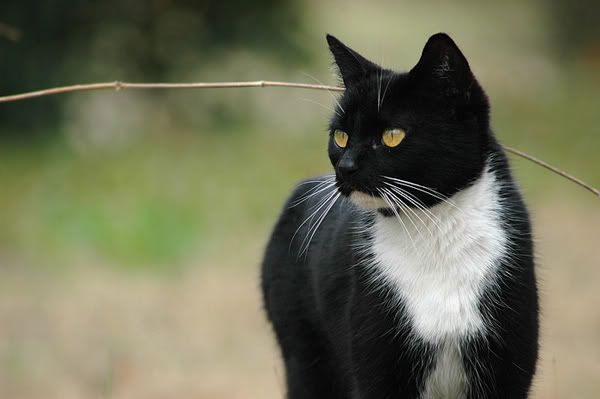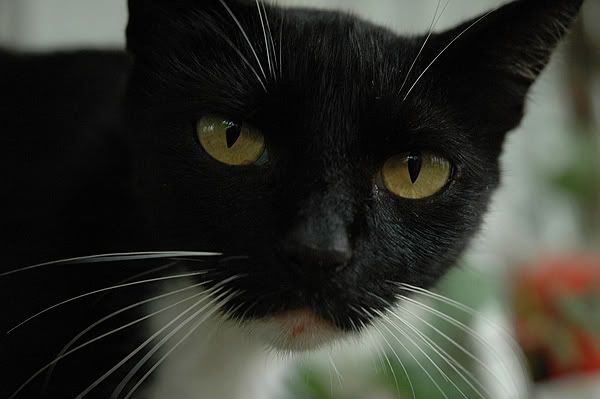 (and this is her "STOP, OK?" face, right before she puts her nose right in my lens)
Now, Larry. He was one of triplets (they were all identical, we had the hardest time telling them apart, so my mom named them after the Three Stooges, Larry, Mo and Curly. Mo and Curly ran away, but Larry stayed.) And he's the shyest of the four, you have to be real calm around him or he'll run and hide ._. But he's also very sweet, much like Stacy.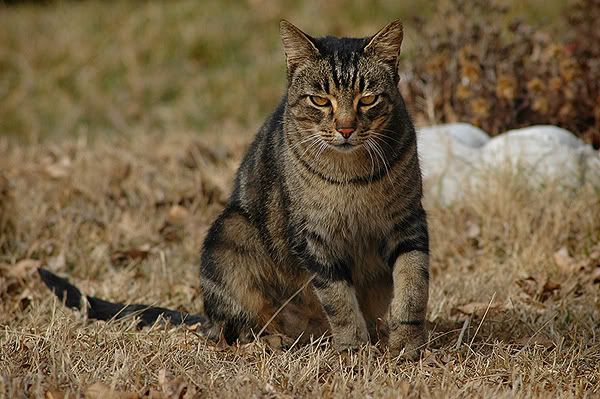 And lastly, Venus. We got her from a friends' friend, and ever since she was allowed as an outside cat. She's technically the Queen of everything. Like Pepper is the King of everything. She's the loner, and very timid of the other cats (her and Stacy generally don't like each other at all, her and Pepper are the same way, she tolerates Larry). But she has her days where she becomes a sweet heart, you can pet her, but only on her terms.
(she looks like she knows she's a queen
but not to be mistaken with unspayed females, all our cats are fixed!)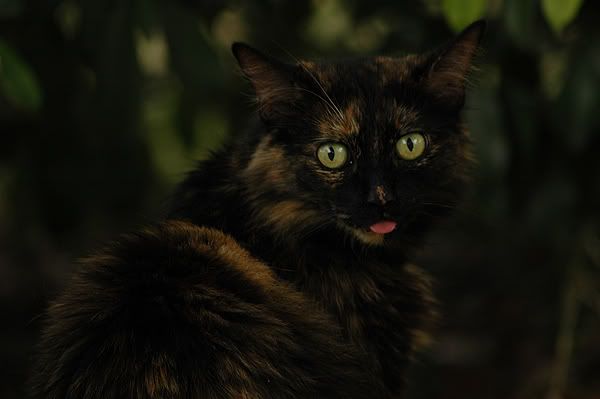 Remember those opinions cats have? Gah!
And now I'll just shut up