Discussion Starter
•
#1
•
I just joined and thought I'd show off my babies.
This is Rin: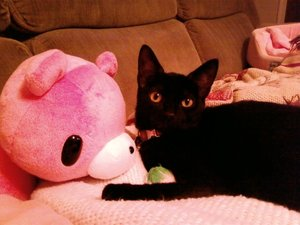 She's all black, and turned one at the end of may. I've had her since she was about 4 weeks old. One of my mom's friend's had a neighborhood cat have kittens in her yard. There were two black kittens, and an orange kitten. 2 males, and a female. The day I picked Rin up, it was storming, and the family was huddling under a bush. I could only take one, and would've liked to leave her with her mother a bit longer, but didn't want her to turn feral like her mother.
We set up a box with some towels and put the kittens in there, out of the rain. I knew I wanted a black kitten, but didn't want to pick between male and female, so I looked into the box, and Rin looked up at me and meowed, and that was it. I took her home. I didn't check to see if I'd grabbed the female or not until the next morning.
This is what she looked like the day after I brought her home:
She had fleas like crazy, worms, and was so underweight that we were't sure if she'd ever be a normal size. But she's completely fine, weighs ten pounds, and knows how to fetch.
Next is O'Malley: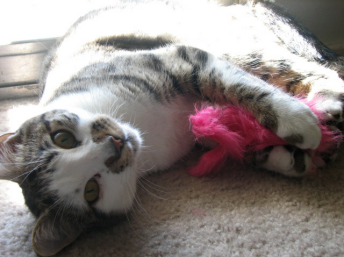 He just goes by Malley. I've known him since he was very young, around 2 weeks old, I think. My neighbor found two kittens 'abandoned under a bush' outside her apartment. Everyone told her to put them back, but she wouldn't. The two kittens ended up living in her bathtub on towels between feeding, and weren't staying warm, so I took them in. My neighbors weren't upset by that at all.
I taught them (both males, Malley, and his brother Temple, who was white.) how to use the litter box and how to eat solid food when they were old enough. A few months after they were neutered, the manager of my apartment complex took Temple home with her. (We thought he'd been stolen, or run off and gotten lost, but a few days later a neighbor told us that he'd climbed right into her car and she'd thought he was a stray, so she took him home.)
Malley is now two to three months shy of two years old.
Jack: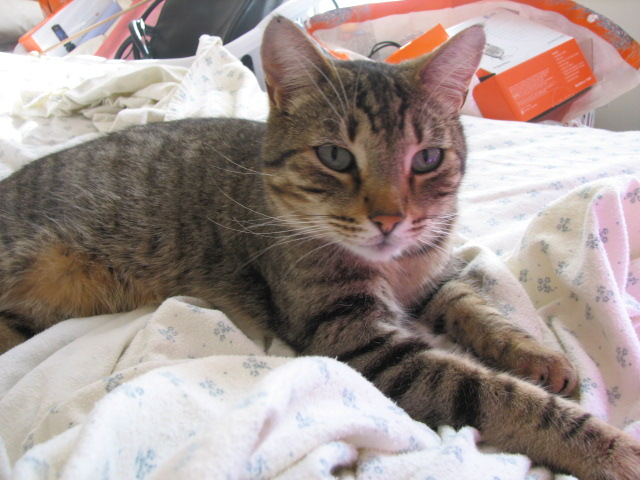 Jack is almost five years old. We've had him since he was about two months old. We originally took in his sister, Molly, and my best friend and neighbor took in Jack, but they ended up not really wanting to take care of him, so he ended up on my front porch a lot. Everyone loved him - he is the coolest, most laid back cat ever - so there was no question about whether we were keeping him or not.
Molly disappeared when she was three. We don't know if she ran away, or was trapped and taken to the animal shelter, or if she was hit by a car. We think she was trapped, as we had a lot of feral cat problems at the time, and people kept trapping tons of cats.
And last but not least, Joe:
Er, well, actually, I can't find a picture of him right now. I'll upload one in a few minutes. He's a longhaired orange tabby.
My mom used to be a manager at Joe's Crab Shack, and one day Joe just showed up outaide. At the time, he was not quite a year old. He was completely feral and was scared of people completely. To this day, nine years later, he's still scared of people that aren't in the family.
Sorry for making the post so long!