Discussion Starter
•
#1
•
*WARNING - LOTS OF PICTURES*
I spent my loooong weekend off work with the babies. It was their last weekend with me before they go to their new homes. They all had their spay/neuter surgeries done today and I called the new moms and dads to let them know. When it was time to call the little girl's new mom she answered and said "oh, I called a few weeks ago... I picked out a different kitten and don't want her anymore" 8O
So she's up for adoption again but I know it won't last long. I may actually consider the offer from the couple taking the boys - if the little girl's owner to be changes her mind they'll take all three. I'm not sure how serious they were... and three kittens at once seems great, but like a lot of work/money/future commitment.
I didn't mention it to them (wanted to call mom first - she keeps saying she wants to keep one) but may send an email later. And no, I'm not keeping her.
Anyway, I think they had a great last weekend here. TONS of running (which is why I don't have any good action shots - they are just too fast!) and tons of sleeping.
Little boy is quite the lover and even more of a cuddle bug! My mother fell in love with him and her goal all weekend was to give him a good place to nap.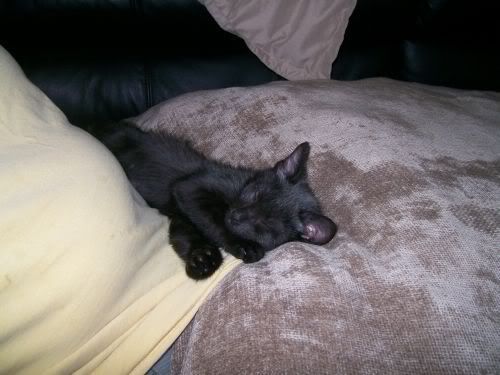 Don't you just wanna squish that little white belly??
They normally curl up under the cough, so I got a little nervous when I couldn't find the other two... until I realized they found a nice cozy spot up high on a chair.
Then it was time to "help" mom fold laundry on the bed. That didn't last long... so the clothes went away and the kittens stayed.
"Can't you see we're CUDDLING??"
*notice the leg draped over brother*
Just too cute!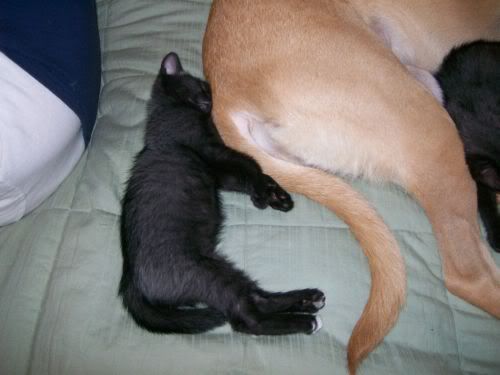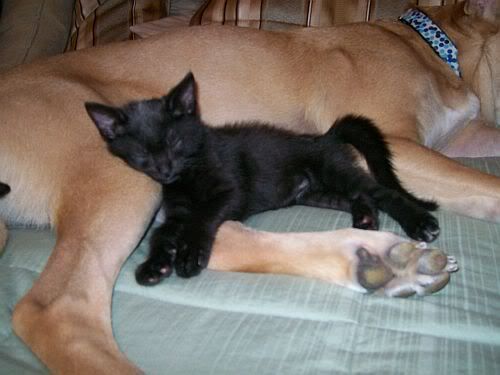 "can I get some fresh air? GEEZ!!"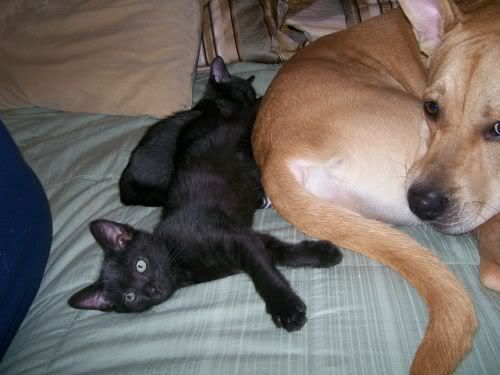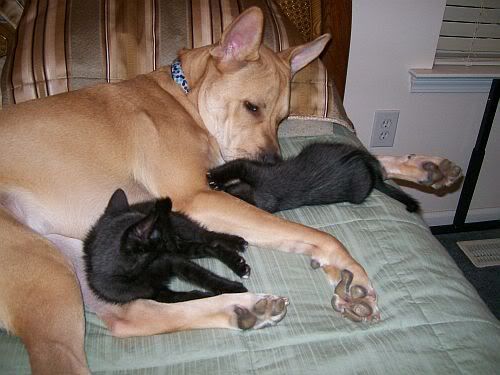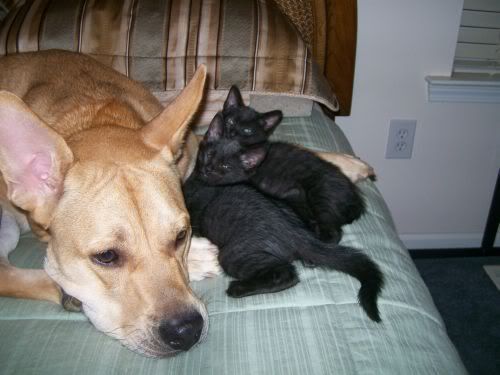 and I finally, FINALLY got one of Brody with all three babies. I'm going to send this with the new owners and ask them to show it to the kitties every now and then so they don't forget her