Discussion Starter
•
#1
•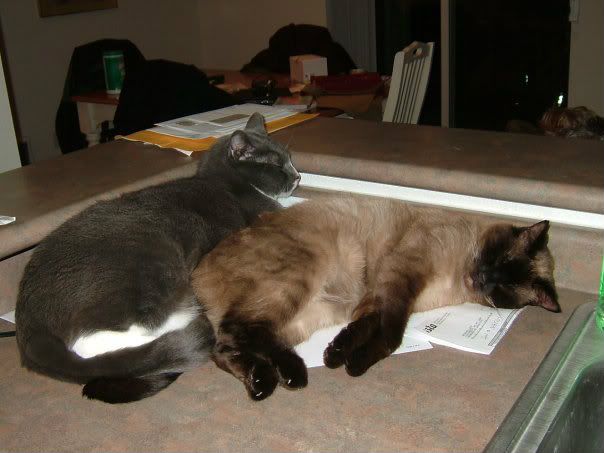 I have two big boy cats, who are not litter mates, but are deeply in love.
The big grey and white one is Benjamin. He is ten years old and weighs about 12 pounds. He is the snuggliest cat in the world, and shows his affection by drooling all over people he likes. He's a very, VERY good boy. He's also very dramatic. He loves the other cat so much that when Tim gets sick, Ben stops eating.
The Siamese mix is Timothy. He's six years old, and is kind of a walking disaster. He has EPI-- a condition that is rare in cats which makes him unable to get any nourishment from his food unless I put expensive digestive enzymes in his food at every meal. He has also had pancreatitis several times, has an as-yet unidentified autoimmune disease that will sometimes make his paws bleed, and has a tendency to find any way imaginable to do something stupid that will require a rushed visit to the vet (ever had a cat open a pantry, climb four shelves, dislodge plastic bins, and gorge himself on dog kibble, dry macaroni pasta and avocados? I have!) He is entirely too smart for his own good and gets into all kinds of trouble because of it. He adores me and will let me do whatever I want to him, but he is a bit of a snot to every other human in the world. I think that may be because I have had him since before he was even fully weaned, and he is a bit confused and treats me like his big, fur-less mother.