Discussion Starter
•
#1
•
Hi. I just signed up because my 7 month old cat Harley has peed on my coat 3 times for seemingly varying reasons. Arg!
Does it make sense for a cat to PEE on your coat if you go to a house where there's other cats? My cat who died in July (Oliver) use to lay on my coat if I held/petted another cat but he never peed on anything! Gracious.
I read on a couple sites that even though she's spayed she's just reached sexual maturity and that could be why she's doing this. Has anyone ever heard of that? She's also just started aggressively scratching at the carpet and pawing at the walls, which she's never done before.
The first time she peed on my coat/purse was a couple months ago when she and her brother Finn had a nasty litter box - I got the message loud and clear and that seemed to solve all the problems as she never did it again until last night.
Last night was the first time she peed on my coat again and I had just got home a couple hours earlier from being in another state for two days, where I spent a lot of time with 3 other cats. Then she peed on a different coat - one I haven't worn in years but had to since she peed on my normal coat - this morning right in front of my husband. Could the unfamiliar coat have set her off? All the info I've read says the unfamiliar, even something minor, can make a nervous cat pee weird places (and Harley's a very jumpy type of cat).
She's making me crazy! She never pees on any of my husband's things.
She's lucky she's adorable or I'd have to kill her. Here's a picture of her when she was a tiny baby back in July: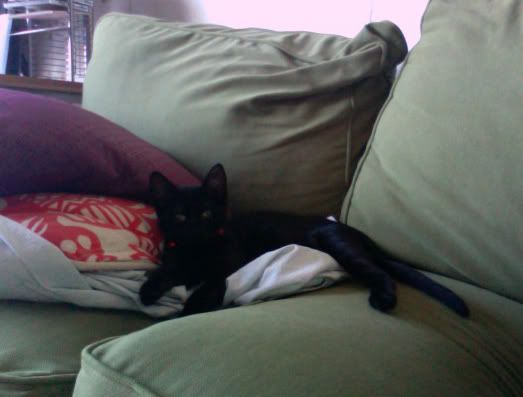 This is Finn, Harley's brother, also when he was a baby since he's a huge monster beast cat now:
She's smooth and sleek and he's soft and fluffy.
And this is my precious Oliver, who I miss every day and always will: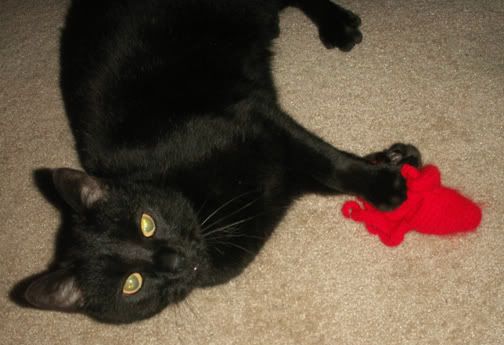 I have an affinity for the black ones, if you can't tell. :wink