Discussion Starter
•
#1
•
Well, I'm new here, and I'll start by introducing myself.
My name is Pheonix on the internets, I live in St. Albert, Alberta (Canada) And I DO spell it that way on purpose.
My whole life I've loved cats, and I've always wanted one. Which isn't to say I haven't had any.
When I was much younger, I had a tuxedoed cat, ( who I ) named Sylvester. When I was around fifteen or so we got an orange tabby (my sisters) named Ringo, and a big ol grey/brown/white furry monstrosity named Maneau (or Moo-moo) as in, My-new. (Dad thought he was hilarious naming him 'maneau [my-new] cat.')
These cats have since crossed the bridge (Sly), or my dad gave them away (Ringo and Moo)
But that's in the past, and I am now the proud and loving mommy of the Most adorable little Jerk I've ever loved.
TailChaser is an Orange Tabby, with a white tummy and the most beautiful markings. (He even has a ying-yang on one side of him) I adopted him from Librarychick, one of the litter that she found under a step (that someone had tried to drown)
I (very originally) named him TailChaser after a character in one of my favorite books, Tailchaser's Song by Tad Williams, but it suits.
When I first saw my little boy, I knew he was the one for me. I could not let him be adopted by anyone else, and so, I laid claim on Chase by naming him.
He is such a little baby, and it's so cute. He loves to run around, climb on people, snuggle, and just get into things that he shouldnt, as cats are wont to do. He loves to cuddle with people, but when I walk into the room, he'll jump off them and head right for me.
It's hard to take any good pics of him, but I'll get some soon, but for now, I just have this picture of him and Librarychick's Muffin playing when they were much younger.
Chase is the top one.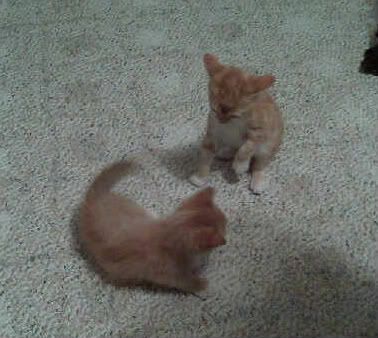 He's about six-seven months old, and he's going in to get neutered next week, my poor baby.
More Pics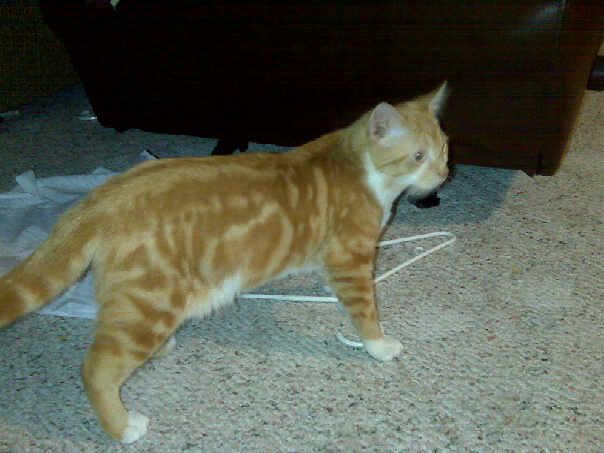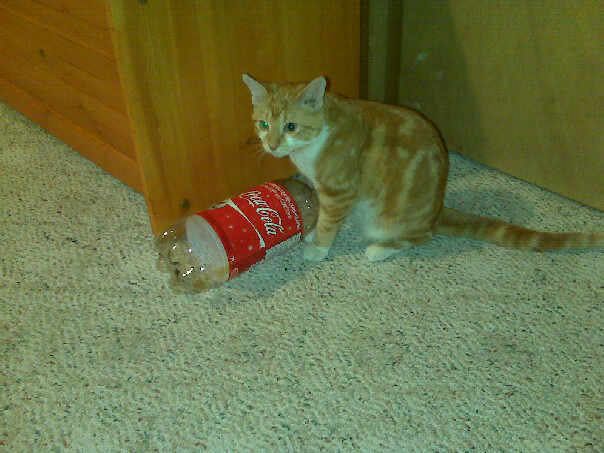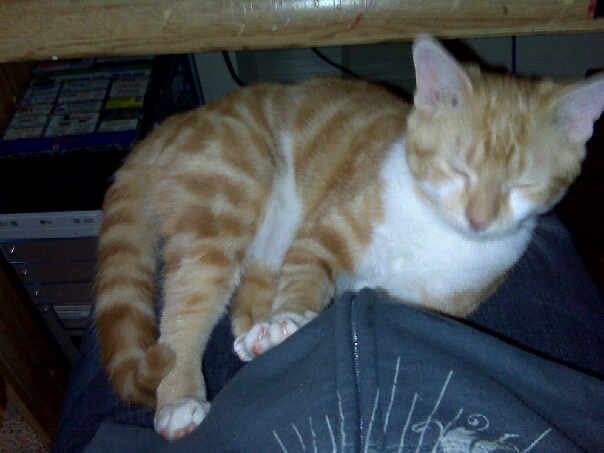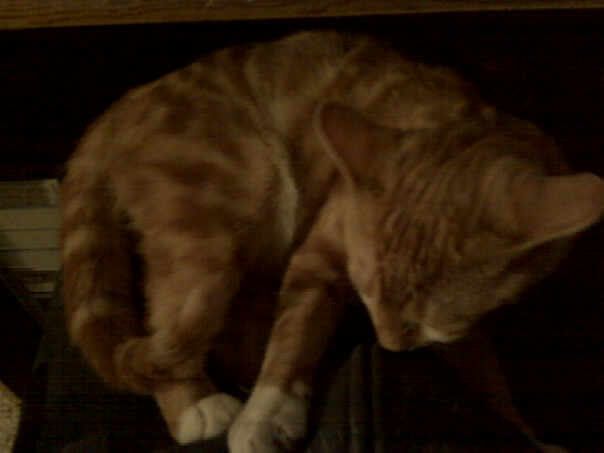 Taken with my Blackberry, so nothing amazing.