Discussion Starter
•
#1
•
Let me introduce my kitties who seems to basicly own this house and are just nice enough to share it with us.
First off is my kitty Raven Fae she is 2 1/2 Domestic Short Hair/Siamees mix who I got from my riding stables.
Ravens Mugshot
Sleeping in the sun
Raven and Spook
Oh no, she has been in the catnip again
Raven and Spook
Raven being her creepy stalker self.
Nap time
Raven is always up to something.
Was it the cat nip again? (I think Raven and I need to have a talk)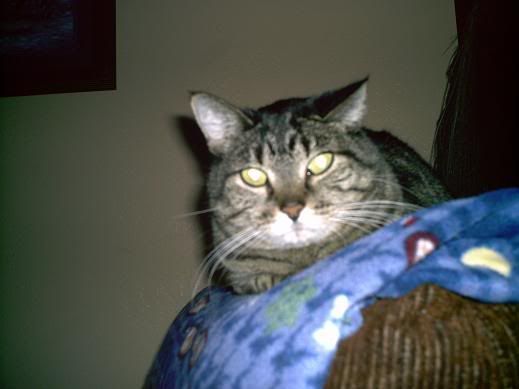 Here is our very old man Buga Buga who is now 15 years old. He was adopted by my stepdad from a sheter when he was just a year old. I have a soft spot for this old tabby because i swear he use to be Mozart in a past life. Being an opera singer every time I do warmup or am working on an aria one would think a cat woudl run and hide from such a voice but not this cat. He walks right up to me and watches so entranced. He even creeps me out with constantly putting his paws on me and getting up in my face when I am singing.
As for Spook who was already pictured above he is a manx mix. We saved him as a kitten off the tracks and I am pretty sure he has Maine Coon in him since he is a BIG cat. He is also gay, yes I know it sounds strange but NEVER have I has a cat as girly as him...not even a girl cat. He also likes to model for pictures. Once I get the cord for my camera I can upload the photos of him I took as proof. There is no joke what so ever but all the same he is such a sweet little boy and so pretty. We always call him the little panther.