Discussion Starter
•
#1
•
Rocky was an abandoned kitten-not sure by who, but he was found alone between two buildings at a local high school. He was very sickly and extremely tiny and scrawny. His head shook continuously and he fell over and walked in circles whenever he was set down on the floor. We did not know his age, but he looked like a 4 week old head on a 2 week old body. He did not respond to stimulation for elimination and knew how to use a litterbox-which we thought totally bizarre for his possible age.
We fed him goat milk among other things, to get him on his feet, and he responded wonderfully. It took about 3 weeks for the head shaking to go away. His eyes were glued shut with crust and pus when he arrived. He went to vet and got antibiotics to take orally as well as drops. The eyes had a haze over them for a few days but then they became very clear and he stopped getting crusties. He used to be very poor at balancing, etc, we believe because of muscle atrophy and starvation. The vet at first told us he might have Cerebullar Hyperplasia, but since everything has improved with his strengthening, I think it was just his condition due to his unfortunate circumstances, whatever they might have been, before he was given to us.
He now enjoys a raw diet, wrestles with his five adopted brothers and one adopted big sister, sleeps pretty much wherever he wants and charms us every time we see him. He knows his name and is the most affectionate kitty I have known so far. His markings were faint at first, but now are becoming much clearer. I don't have a good picture of them but he has the same markings as a Mau.
Rocky is a permanent member of our household now, but he has won the hearts of a couple of friends already who have asked about his availability, and I'm not surprised in the least.
Rocky when he first came to us on 5/14/10. Note the blurred head-because it would not stop shaking, poor little guy: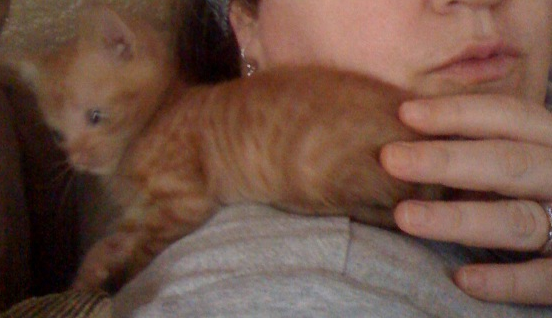 Rocky as of 6/28/10. No head shaking whatsoever. Jumping, climbing, playing with all his adopted brothers and sisters, but here, lounging and being adorable and sweet: