Discussion Starter
·
#1
·
Once upon a time, there lives a princess, Meatball, and her loyal servant, Yingying. Meatball is a pure blood Siberian born in the year of Tiger. She sure looks like one, isn't she? Although her name Meatball may sound funny in English, in Chinese it means "precious kitty", which fit her perfectly.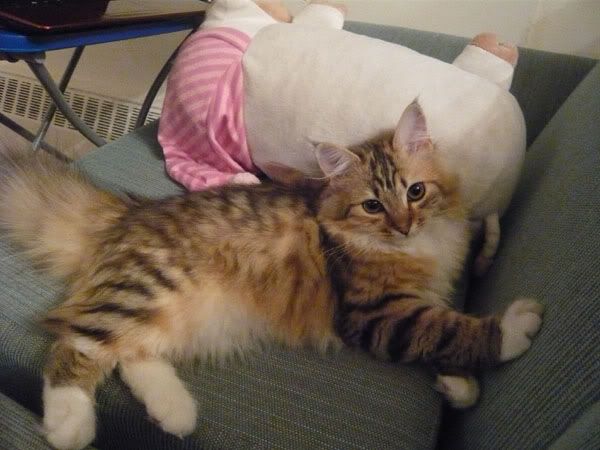 Meatball is calm and confident, as a princess should be. She is not very playful, but she likes to jump high on the top of her cat tree and look down upon the world. "When I grow up, I will be the queen of the world!" She said (in a meow) proudly. "You already are, my princess, you are the queen of my world." Her servant Yingying answered affectionately.
Yingying is Meatball's favorite. People come and people go, some with good intent, like Yingying's parents and friends, and some really baaaad, like the evil guy called "the VET", but Yingying is always with the princess since the very beginning. As a reward, Meatball lets Yingying see her cute and sweet side and gives Yingying love bites in the morning, which she does to no one else.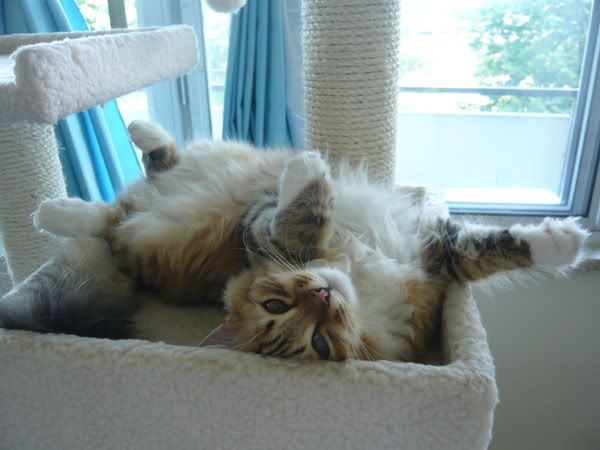 Everything seems so perfect, until one day, Yingying came home with a stranger. "Meatball, come meet Metoo. She is a sacred princess of Burma. From now on, she is your little sister." Yingying said while holding Metoo in her arms. Meatball saw Metoo snuggling against Yingying, and she suddenly felt angry. "Traitor! How can you call her princess?
I
am your princess!" She gave Yingying a death glare and turned her eyes toward Metoo. Look at that funny chocolate spot on her nose, like a clown. There is no way she can be a princess, and there is NO way she will be my sister, Meatball thought angrily.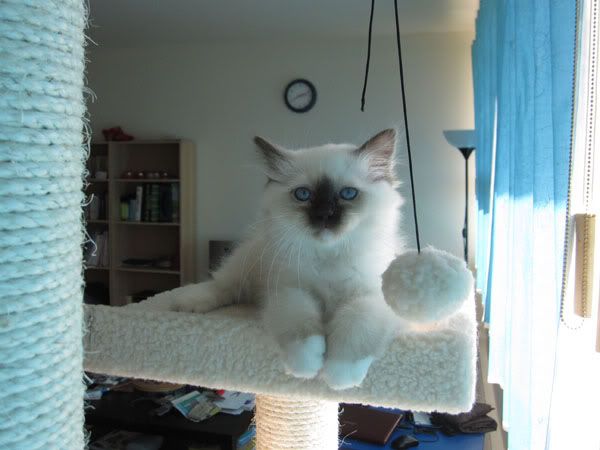 So Meatball decided to punish Yingying. She did that by ignoring Yingying completely. She won't sleep on Yingying's lap, won't let Yingying pet her royal tummy, won't play with her, and won't even look at her. As to Metoo, although Meatball really want to yell at her, to bite her, to scratch her, and to kick her out of the house, but she won't do it because it's just too low for a princess. So she chose to ignore her as well.
However, the two won't leave Meatball alone. Yingying kept hugging and kissing her and offering these decilous treats to her, and Metoo followed her everywhere with admiring eyes. So the fire of anger got smaller and smaller, until one day Meatball decided that it's time to talk.
"Why are you doing these to me, my princess?" Yingying whined.
"Why are YOU doing these to me? Why did you bring that... that... thing to MY house?" Meatball spoke angrily.
"Because you are lonely, princess. You see, I need to perform this duty called 'work', which means I have to leave you alone at home during the day. I know how you like to be surrounded. Don't you feel lonely while I'm away?" Yingying answered lovingly.
Meatball lowered her eyes. Lonely... Maybe... a little. She looked at Metoo, who is running crazily chasing air. Although she still doesn't like her, she has to admit that with this little clown around, the house doesn't seem so empty.
"Just... try to accept her, ok? Give her a chance." Yingying said with a smile.
"... No promise." Meatball reluctantly replied.
So when Metoo started following her, again, Meatball stopped and turn around.
"Stop following me!" Meatball tried to look agitated.
"Can we play, sister, can we play?" Metoo asked happliy.
Not so observant, obviously, Meatball thought to herself. "I'm not your sister. Don't call me that."
"But Yingying says I can call you that." Metoo pouted.
She looks kind of... cute when she pout, Meatball had to admit. "So... Your name is Metoo? Why is that?"
"En... Because Yingying says I was born in the year of Rabbit, and I have ivory, silky fur like a rabbit. Yingying says Metoo means 'kitty rabbit' in Chinese." Metoo tilted her head a little, making her look even cuter.
"So you are a princess as well?" That's the question that kept bugging Meatball.
"Yingying says you are a princess, so if I am your little sister, I am a princess too. Will you be my sister?" Metoo asked with those blue eyes shining like stars.
Meatball wanted to say no, but it's so hard to turn down those big blue eyes. "Maybe... If you behave."
"I will! I will! Can we play now, sister?" Metoo shaked her tail excitedly, which has an adorable white tip on it.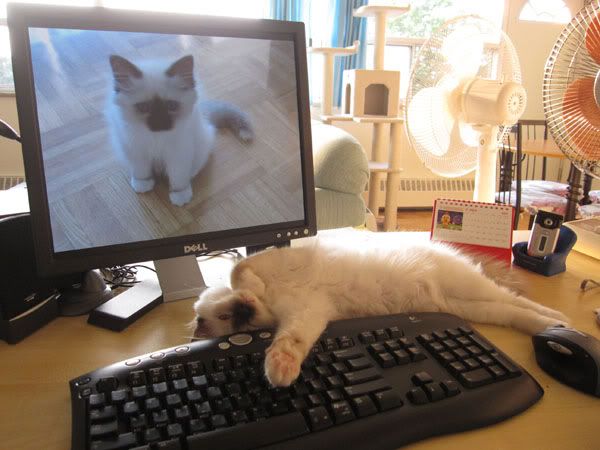 Meatball thought it doesn't hurt to play a little, especially since she hasn't played for three days. So they played some boxing, some wrestling, some Marco-Polo, and some hide-and-seek. They both were exhausted, so they went to eat together when Yingying got the dishes ready. Then they slept together. Then they play, eat, and sleep, over and over again.
"It does feel good to have a sister." Meatball said to herself.
"Can't agree more!" Metoo, who is lying next to Meatball, gave her a love-lick on the cheek.
They didn't know Yingying was secretly watching with a big smile on her face.
Then the three lived happliy ever after. :kittyturn