Discussion Starter
·
#1
·
It surely does take a long time to catch all the cats in a colony! The first time or two, all the easy ones get caught. Then it can take months to try to get the more wild and wary ones, and sometimes there are a few who just refuse to be trapped. But, in all that time, I get to "know" the residents and it is such a rewarding feeling. I was helping trap a large (50+ cats) colony in WV for a couple months. Now that they're down to a few hard-core cats, I've taken on a smaller colony (~25 cats) in OH myself. I can trap every other Sunday because the cheap ($35) clinic is every other Monday, but I visit the cats a few times in between. I'm getting to know them and their varied personalities and, whether super-wild or actually touchable, they are all so beautiful and intriguing in their own ways. I just love being around them.
I took pictures of a few today. It wasn't at one their regular feeding times, so only about half the cats showed up, and some stayed where I couldn't get pictures.
This beauty was dumped at the site two years ago (already spayed) and she won't let anyone near her.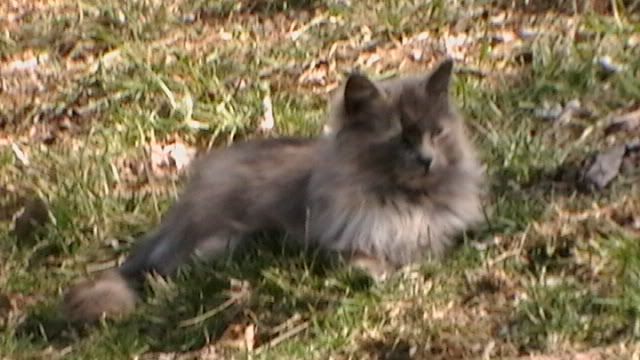 This is one of the recently spayed girls. She's inquisitive, but won't be touched.
This is May-May. She is fairly tame and she is now my BFF since I brought catnip last week. She is now spayed. She drools like crazy when she's nippin'!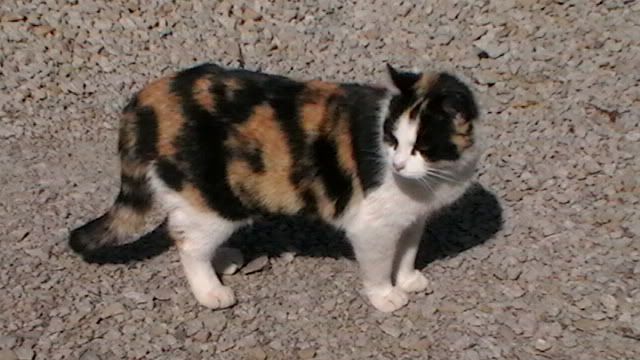 And this is Patches, aka Mamacita. She breaks my heart. She is so loving, follows anybody around, and cries when we leave. How I wish someone would adopt her. The more times I visit, the harder it is to leave her behind. Uh-Oh. She, too, has discovered the joys of catnip, and can't quit rolling around when she finds some! You can see her spay-shave.
These cats are SO well cared-for. They are fed and checked three times a day. Their main caretaker brings them a homemade casserole, roast chicken, and canned food every evening. She often stays for hours afterward, just watching them and talikng to them. A wonderful, wonderful cat lady!